Slow Cooker Butternut Squash with Apples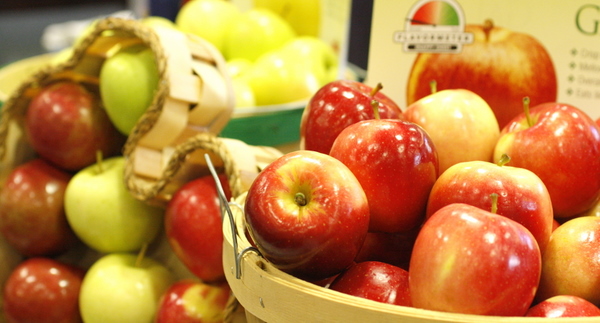 Last week I got the chance to attend a Michigan Apples cooking event. I took a train to Chicago (a fun experience!) and spent the afternoon cooking various apple recipes with Chef Paul and a few other apple enthusiasts.  The day was a ton of fun and I definitely picked up a few cooking tips (like the quickest way to chop apples!).  Not only was it a fun learning experience, but the food tasted INCREDIBLE. Seriously, we got a whole apple-centered meal at the end of the event and I want to re-create every single recipe.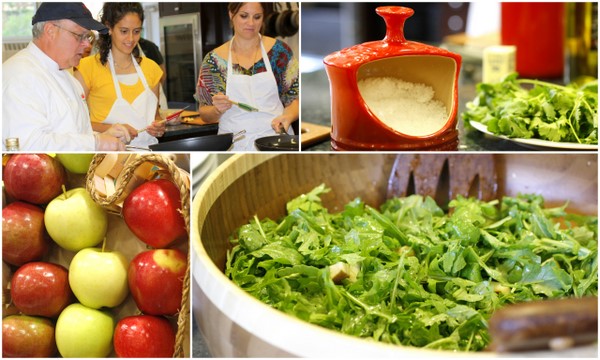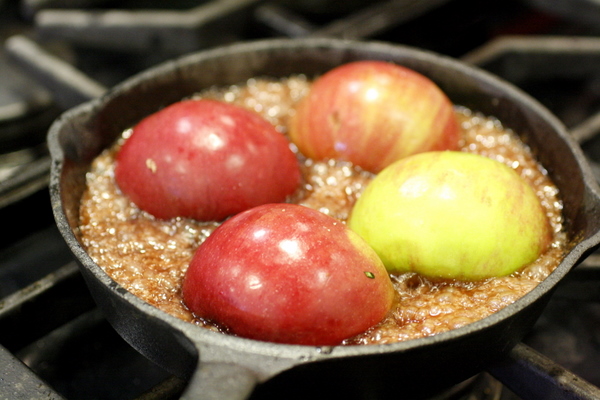 Other attendees included Maris from In Good Taste and Maribel from Meijer. We had a blast chopping apples, making chutney, learning from Chef Paul, and of course eating the amazing food. The people from Michigan Apples were incredibly kind and sent us away with a goody bag filled with apples, tons of recipes, and even an unbaked pie in a cast iron skillet! (Yes, I carried it all on the train back to Michigan!)  I learned that apples are the largest Michigan fruit crop (I would have guessed blueberries or cherries), and all about the local family owned farms that produce the crop. This was highlight for me, since I live in the area and go apple picking every Fall.  Also check out the Michigan Apples recipe page for some great apple recipes!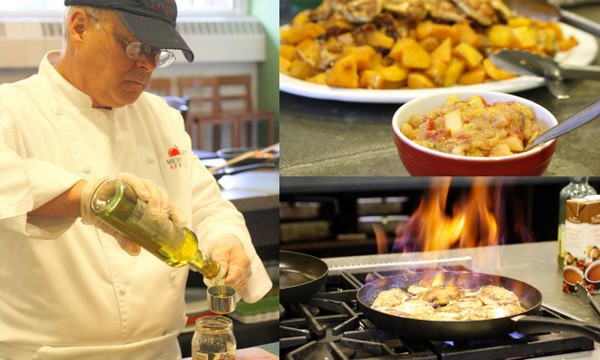 One of the delicious Fall recipes we made was slow cooker butternut squash with apples. It was so good, I just have to share the recipe with you. This would be a perfect dish to serve with Thanksgiving dinner, but it's easy enough to make even for a casual side dish. I never knew how well dried cherries complimented roasted apples until I tried this dish!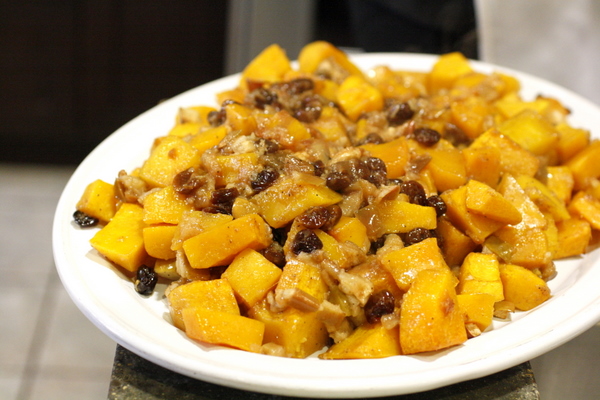 Slow Cooker Butternut Squash with Apples
Ingredients:
1 1/2 lbs buternut squash, peeled and chopped (about 5 cups)
2 medium tart apples, chopped (2 cups)
1/4 cup dried cherries or cranberries
1 1/2 tsp grated fresh ginger
1/2 tsp salt
1/8 tsp pepper
1/2 tsp cinnamon
1/4 tsp nutmeg
1/2 cup apple cider
Directions:
In a slow cooker combine all ingredients and stir together. Cover and cook on low setting for 3-4 hours or on high for 1 1/2 hours. If using a conventional oven, cover and bake at 325 degrees until fork tender.
*You can substitute sweet potatoes for the butternut squash.
*Michigan Apples invited me to this event, but all opinions are my own. They didn't ask me to write about it, I wrote about it because I had a great time. 🙂