Simple Shredded Chicken Sandwiches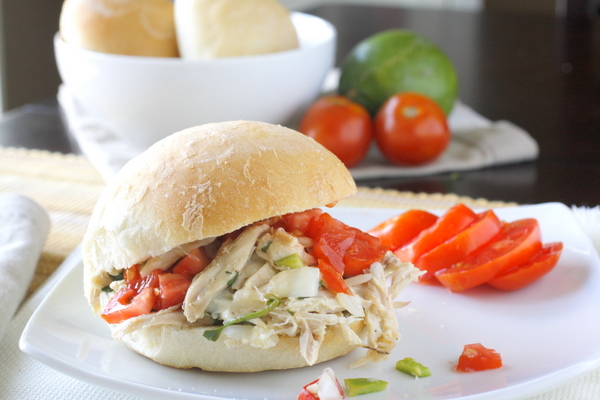 If you're looking for a quick and easy dinner, this recipe is for you! It doesn't get much easier, or much tastier than these shredded chicken sandwiches. I made them for dinner one lazy Sunday afternoon and couldn't believe how good they were. We love warm cheesy sandwiches, and this recipe is one of our favorites.  It starts with a rotisserie chicken, which keeps things simple, but the combination of lime juice, cilantro, and fresh veggies really makes this sandwich stand out. This would make a great weeknight meal, and the leftovers are just as good the following day. We served the sandwiches on homemade french bread rolls (my favorite!), but I bet they'd be just as good on some bakery style rolls from the store. Give these a try for a quick easy dinner this week, and let me know what you think!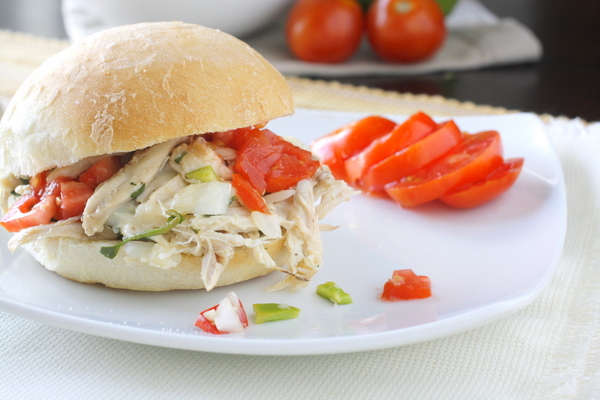 Shredded Chicken Sandwiches
Ingredients:
1/4 cup olive oil
1 cup julienned red onion
1 Tbsp minced anaheim (or jalapeno) pepper
1/2 cup julienned red pepper
2 cups shredded rotisserie chicken
sea salt and black pepper
1 Tbsp chopped garlic
2 Tbsp chopped fresh cilantro
1/4 cup grated Parmesan cheese
1 1/4 cups grated mozzarella cheese
1/4 cup fresh lime juice
1/4 cup diced Roma tomatoes, for topping
Rolls for serving
Directions:
Pre-heat oven to 350. In an oven-safe skillet or baking dish, layer the following: olive oil, onion, peppers, chicken, 1/4 tsp salt, 1 tsp pepper, garlic, cilantro, cheeses and lime juice. Cover the dish and bake for 20-25 minutes, or until heated through and vegetables are soft. Serve on rolls with tomatoes and extra cilantro.
adapted from Food Network Magazine, October 2011