Chocolate Drizzled Shortbread Bites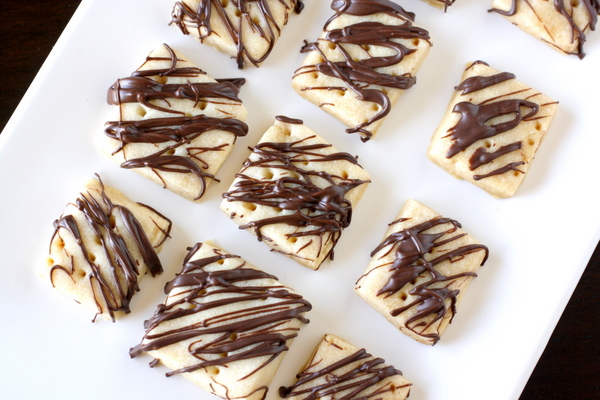 These chocolate drizzled shortbread bites are so simple to make but they taste so good! The shortbread has the perfect melt-in-your-mouth texture and the chocolate on top adds a great festive touch.
I was so happy when these turned out just as I was hoping. I love the idea of chocolate and shortbread together, and making the combination into little bite sized cookies is a great idea for cookie trays and parties.
I took these into work with a few other cookies for a Christmas party we were having, and was so surprised when these were the first to go! They don't seem as fancy or as rich as other cookies I made so it was surprising to me that these were the ones my coworkers were raving about.
Even though these cookies look simple, they would make a great addition to your cookie trays!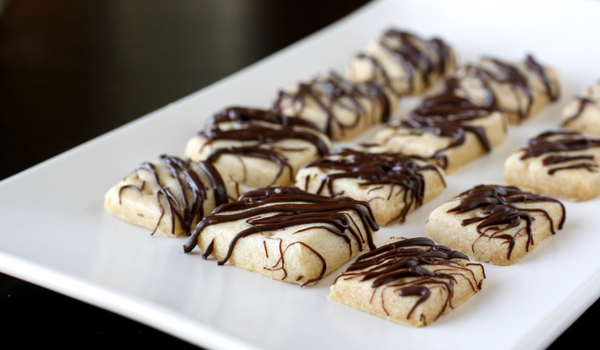 P.S. You can see all of my Christmas treat recipes from over the years at this Christmas Cookies tag. Enjoy! And, as always, let me know if you try any and how you liked them.
Chocolate Drizzled Shortbread Bites
Ingredients:
2 cups flour, plus more for dusting
1/2 pound unsalted butter, cut into 1/2-inch cubes, firm but not cold
1/2 cup powdered sugar
2 tablespoons cornstarch
3/4 teaspoon salt
chocolate for drizzling (I used candy melts, but you could use chocolate chips or baking chocolate - just be
careful not to overheat it in the microwave)
Directions:
Line 3 baking sheets with parchment and dust 1 with flour. Using an electric mixer on low speed, beat together 2 cups flour, the butter, sugar, cornstarch and salt until the dough just comes together, about 2 minutes. Do not overbeat.
Transfer the dough to the floured baking sheet and press into an 8 1/2-inch square about 1/3 inch thick. Refrigerate until firm, about 30 minutes. Prick the dough all over with a fork. Cut into 1-by-1-inch squares and refrigerate until cold, about 15 minutes.
Position a rack in the center of the oven and preheat to 275°. Divide the cookies among the remaining 2 prepared pans and bake 1 pan at a time, keeping the other refrigerated, until the bottoms of the cookies are golden, 30 to 35 minutes; let cool completely.
Melt chocolate carefully in the microwave, being careful not to burn it. Drizzle the chocolate over the cooled shortbread.