Creamy Stovetop Macaroni and Cheese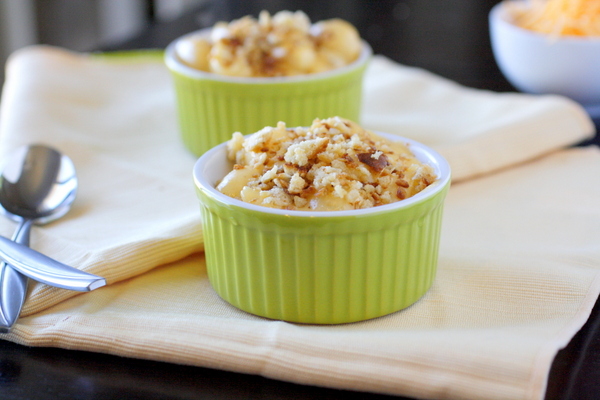 You probably can't tell from the pictures, but this stovetop macaroni and cheese is incredibly creamy. Not only that but it came together very quickly. In fact I'm pretty sure it doesn't take much more time than cooking up a box of Kraft mac and cheese! And it's got to be healthier. Sure, there's a ton of cheese, and quite a bit of butter, but at least it doesn't have any weird sounding chemicals or powdered cheese mix.
To be completely honest, I do love an occasional box of Kraft mac and cheese. But I really was incredibly impressed by how quickly I was able to make this homemade stovetop version. And by how good it tastes. The extra little addition of hot sauce and mustard really gave it a unique flavor, and I mean that in a good way! One of the highlights, however, was the homemade bread crumbs sprinkled on top. Don't skip that step – it's totally worth the extra work! Next time I'm going to stir some steamed broccoli in at the end to take advantage of every bit of that homemade cheese sauce. Plus, then it really is healthy, right?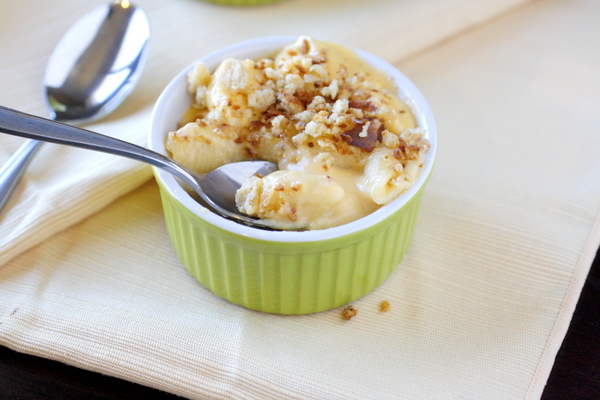 Creamy Stovetop Macaroni and Cheese
Ingredients:
Bread Crumbs:
3 slices sandwich bread, torn into quarters
2 Tbsp unsalted buter, melted
salt
Macaroni and Cheese:
2 large eggs
1 (12 oz) can evaporated milk
1 tsp dry mustard, dissolved in 1 tsp water
salt
1/4 tsp pepper
1/4 tsp hot sauce
8 oz small pasta
4 Tbsp unsalted butter
12 oz sharp cheddar cheese (or a mixture of sharp cheddar and Monterey Jack)
Directions:
For the Bread Crumbs: Pulse the bread in a food processor until it turns into coarse crumbs. Melt the butter in a large skillet over medium heat. Add the bread crumbs and cook, stirring, until they are toasted and beginning to brown, 4-6 minutes.
For the Macaroni and Cheese: In a medium size bowl, mix together the eggs, 1 cup evaporated milk, mustard mixture, 1/2 tsp salt, pepper, and hot sauce. Set aside.
Bring 2 quarts of water to a boil in a large pot. Add the pasta and some salt and cook according to package directions until al dente. Drain the pasta and return to the pot over low heat. Stir in the butter until melted.
Add the egg mixture and 3/4 of the cheese to the pasta and stir until thoroughly combined and the cheese begins to melt. Add the rest of the evaporated milk and cheese and cook, stirring constantly, until the mixture is hot and creamy, about 5 minutes. Serve immediately, sprinkling individual portions with toasted bread crumbs.