Christmas Sprinkle Cookie Cups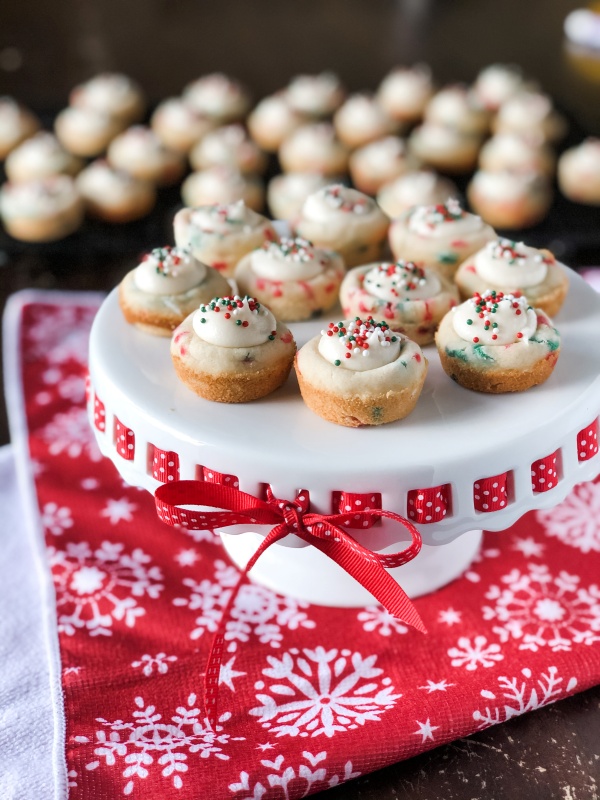 If you are a longtime reader, you may remember years ago when I used to do a 12 days of Christmas Treats countdown on my blog. I would post a new Christmas cookie or treat recipe every day for the first 12 days of December. (Note: here is where you can find all my cookie recipes!) I loved doing it, and by the end of the countdown my Christmas baking would be done! Fast forward through 4 kids in 5 years and here I am lucky to post one or two new Christmas recipes for you!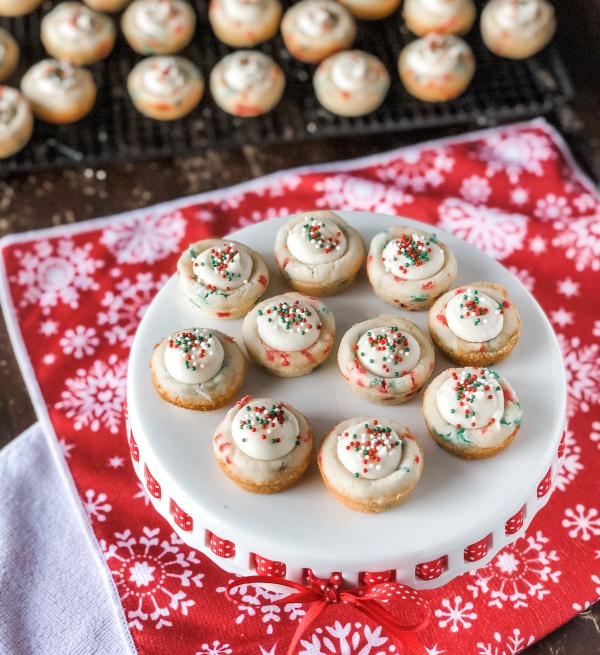 I have to tell you though, this is a good one! These Christmas sprinkle cookie cups are exactly what you want in a holiday cookie. They are cute, simple to make, festive, and of course they're delicious. 🙂 It's no secret that I love sugar cookies and decorating them with the kids is one of my favorite traditions. But sometimes you just need a recipe that doesn't involve chilling dough, rolling it out, cookie cutters, and the mess of 4 kids with bowls full of icing. And for those time I bring you these sugar cookie cups.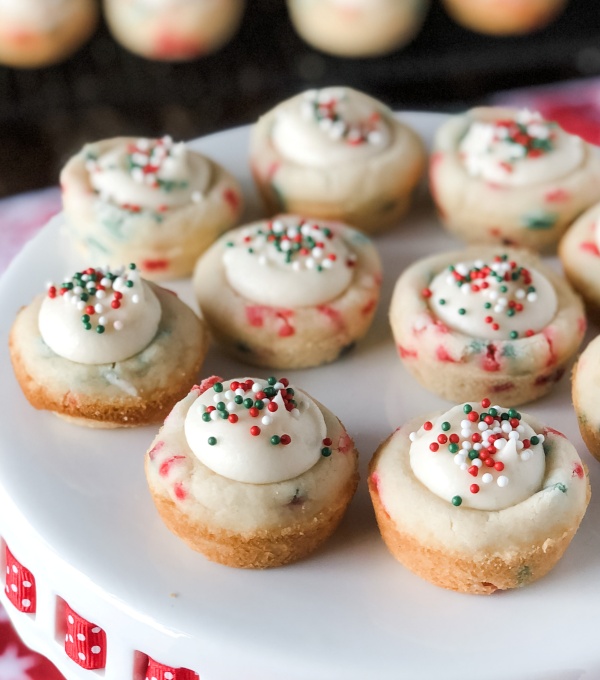 The cookies are made from a basic sugar cookie dough with plenty of red and green sprinkles mixed in. You bake them in a mini muffin tin so that they form these cute little festive cookie cups. After they cool you top them with a little dollop of vanilla frosting and then add even more sprinkles. The end result is adorable and delicious!
The kids helped me make these cookies and of course their favorite part was mixing in the sprinkles and adding the extra sprinkles on top. Oh, and eating any sprinkles that fell on the counter. 🙂
If you're looking for a new cookie recipe to try this Christmas season, I hope you try this one – you'll be glad you did!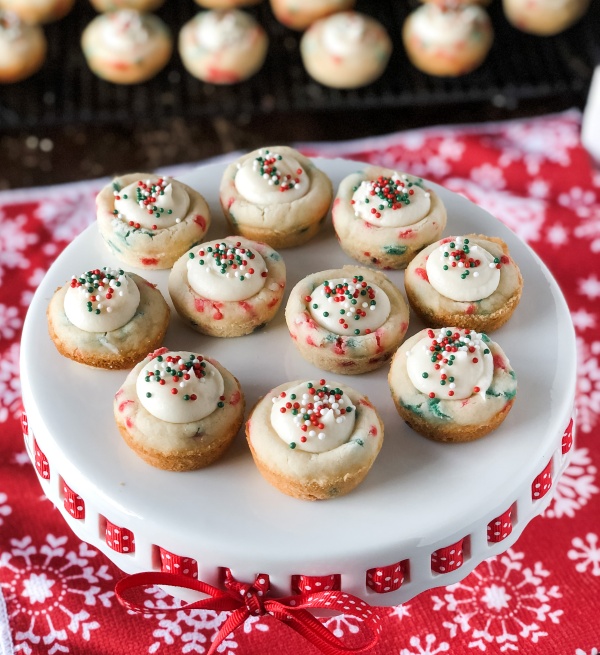 Yield: 42 cookies
Christmas Sprinkle Cookie Cups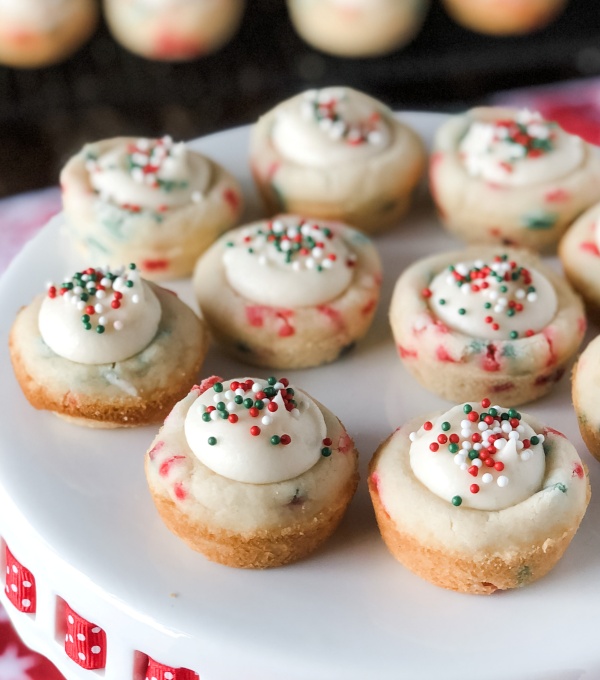 These sugar cookie cups topped with vanilla frosting and sprinkles are adorable and so festive for the holiday season!
Ingredients
Cookies:
1 1/4 cups unsalted butter, softened
1 1/2 cups powdered sugar
1 teaspoon baking powder
1/2 teaspoon salt
1 egg
1 teaspoon vanilla extract
2 1/2 cups flour
1/2 cup Christmas sprinkles
Frosting
1/2 cup unsalted butter - softened
2 1/2 cups powdered sugar
1 teaspoon vanilla
1/2 teaspoon salt
2 - 3 tablespoons milk
Additional sprinkles for garnish
Instructions
Preheat your oven to 350 degrees F. Spray mini muffin pans with baking spray and set aside.
In a large bowl, beat the butter 1 minute. Then add the powder sugar, baking powder, and salt. Beat until creamy (2-3 minutes), scraping the sides of the bowl as necessary.
Beat in the egg and vanilla. Then stir in the flour until just combined.
Stir in the sprinkles.
Shape the dough into 1-inch balls and place in the prepared mini muffin pan. Press each dough ball with your thumb.
Bake for 10 minutes or until the edges are light brown. Remove from the oven and press the centers with the rounded side of a measuring teaspoon.
Cool in pan for 5 minutes. Then remove to finish cooling on a wire rack.
Make the frosting: Beat together the softened butter, powdered sugar, vanilla, and salt. Add as much milk as needed to create a smooth frosting.
Use a piping bag to frost the cooled cookies. Top with additional sprinkles.

from Inspired by Charm