Simply Sinful Cinnamon Muffins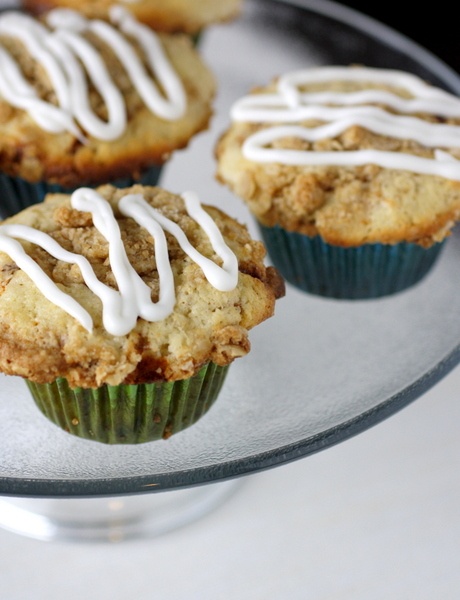 I can't say enough good things about these cinnamon muffins. The muffin itself is really good – it's actually more like a coffee cake than a muffin, and the cinnamon chips sprinkled throughout are a great addition. But what really makes these muffins stand out is the rich and gooey cinnamon filling. I'm only sorry I didn't get a picture of the inside of one of these for you to see! You mix together melted butter, sugar and cinnamon and insert it into the center of each muffin before you bake it. The end result is a muffin that is incredibly rich and full of cinnamon flavor. I made these muffins for a Sunday School snack last week and they were definitely popular. Beware: this is is no way a healthy recipe! But sometimes you need a sinful cinnamon muffin in your life. 🙂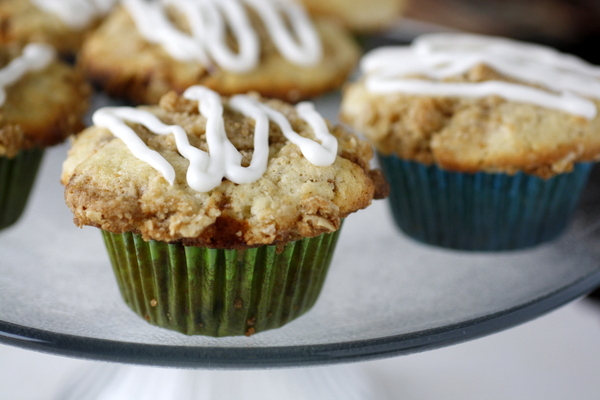 Simply Sinful Cinnamon Muffins
Ingredients:
Topping:
1/3 cup brown sugar, packed
1/4 cup diced pecans
1/4 cup rolled oats
1/2 cup All-Purpose Flour
3 tablespoons soft butter
Filling:
3 tablespoons butter, melted
1/2 cup brown sugar
1 1/2 tablespoons ground cinnamon
Muffins:
1/2 cup (1 stick) butter, melted
3/4 cup milk
2 large eggs
1 3/4 cups All-Purpose Flour
1/2 cup rolled oats
2 tablespoons cornstarch
3/4 cup granulated sugar
1 tablespoon baking powder
1/2 teaspoon salt
1/4 teaspoon ground nutmeg
1/2 cup cinnamon chips
Directions:
Preheat your oven to 400°F. Line a 12-cup muffin pan and set aside.
For the topping: Mix the ingredients together until crumbly. Set aside.
For the filling: Mix all ingredients together and set aside.
For the batter: Whisk the melted butter, milk, and eggs together in a large bowl. In a separate bowl, whisk together the dry ingredients, including the cinnamon chips. Add the dry mixture to the wet mixture, stirring just until combined.
Divide half the batter evenly among the muffin cups. Place ~2 teaspoons of the filling onto each muffin, then top with the remaining batter. Sprinkle with topping and press it in lightly.
Bake for 20 to 25 minutes, or until golden brown. Remove them from the oven, and wait 5 minutes before transferring them from the pan to a rack to cool.