Strawberry Summer Cake
Strawberry season is officially upon us up here in Michigan. Apparently it is both an early and a short season, which means I need to pack all of my strawberry baking plans into a short period of time. In case you're wondering, that means you should expect some very strawberry heavy blog posts in the coming weeks. 🙂
Actually, it's thanks to you guys that I have so many strawberry recipes to post. When Mike came home from strawberry picking with 10 pounds of berries, I sent out a plea on Facebook asking what to do with them. And you came to the rescue! (And yes, Mike went strawberry picking in my place because I had forgotten I signed up for a local road race!).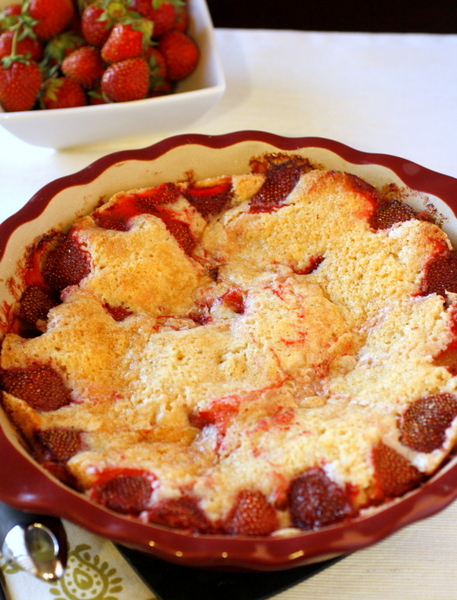 As soon as I saw this recipe for a strawberry summer cake in the list of suggestions, I knew it would be first on my list. I made it that very night and it is delicious! If you remember the peach cake I posted last Fall, this strawberry version is very similar. The cake is nice and tender, and the fresh strawberries keep it nice and moist. Actually, the cake is baked for so long that the strawberries almost start to taste roasted, and they seem to take on more of the consistency of strawberry jam. As someone who usually can't stand the sogginess that strawberries bring to baked goods, I thought this cake was absolutely perfect. I hope you'll try it and let me know if you agree!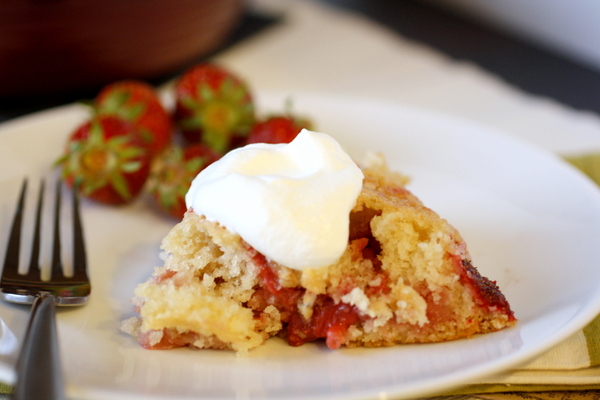 *Note: In the pictures, the cake looks like it's sort of falling apart. That's because I was losing daylight and ended up cutting into the cake while it was still warm so I could take pictures of it. If you wait until the cake is completely cool before cutting it, the pieces should come out just fine. But it tastes great warm. 🙂
Strawberry Summer Cake
Yield: 1 9-inch cake
Prep Time: 20 min
Cook Time: 1 hour 10 min
Total Time: 1 hour 30 min
This is a great summertime treat!
Ingredients:
6 tablespoons unsalted butter, at room temperature, plus extra for pie plate
1 1/2 cups all-purpose flour
1 1/2 teaspoons baking powder
1/2 teaspoon table salt
1 cup plus 2 tablespoons granulated sugar
1 large egg
1/2 cup milk
1 teaspoon vanilla extract
1 pound strawberries, hulled and halved
Directions:
Preheat oven to 350 degrees. Butter a 10-inch pie plate or a 9 inch deep dish pie plate (what I used). If you use a regular 9 inch pie plate, the batter is likely to overflow into your oven, so be careful!
Whisk together flour, baking powder, and salt into a medium bowl and set aside. Place butter and 1 cup sugar in the bowl of an electric mixer fitted with the paddle attachment. Mix on medium-high speed until pale and fluffy, about 3 minutes. Reduce speed to medium-low and mix in egg, milk, and vanilla just until incorporated.
Reduce speed to low and gradually mix in the flour mixture. Transfer batter to the buttered pie plate and arrange the strawberries on top of batter, cut sides down and as close together as possible. Sprinkle remaining 2 tablespoons sugar over berries.
Bake for 10 minutes, then reduce the oven temperature to 325 degrees. Bake until cake is golden brown and firm to the touch, about 1 hour. Let cool in pie plate on a wire rack. Cut into wedges. Serve with lightly sweetened whipped cream
Cake can be stored at room temperature, loosely covered, up to 2 days.