Apple Spice Muffins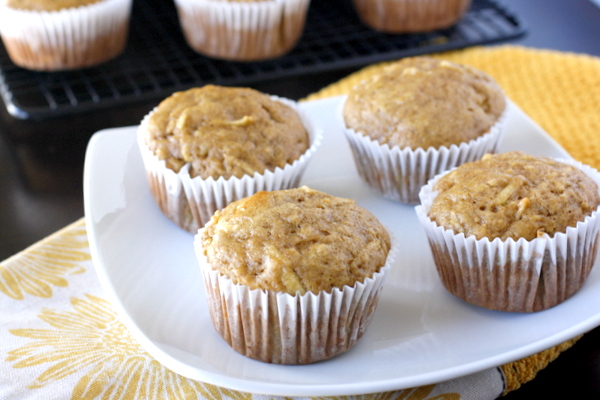 This is a fun post to write – not only because I'm excited about sharing these delicious muffins, but also because it's part of a virtual baby shower for a blogging friend of mine! Jen from My Kitchen Addiction is expecting a little baby girl and some fellow bloggers are celebrating by participating in a blog version of a shower.  Jen is one of the sweetest girls I've met through this whole experience and I am so excited for her. I decided to bring these apple spice muffins to the event – not only because they taste really good, but also because they are an adaptation of a recipe Jen posted recently! I shared her recipe for spiced zucchini apple muffins in a recent Friday Favorites post, and I just couldn't wait any longer before trying them.
These muffins are perfect for Fall. They are perfectly sweet and full of warm Fall spices. I love the texture that the shredded apple gives them, and the flavor is absolutely perfect. I've made plenty of apple muffins in previous years, but suffice it to say, these are now my favorite. So thanks, Jen for a wonderful recipe, and I hope you enjoy your shower! 🙂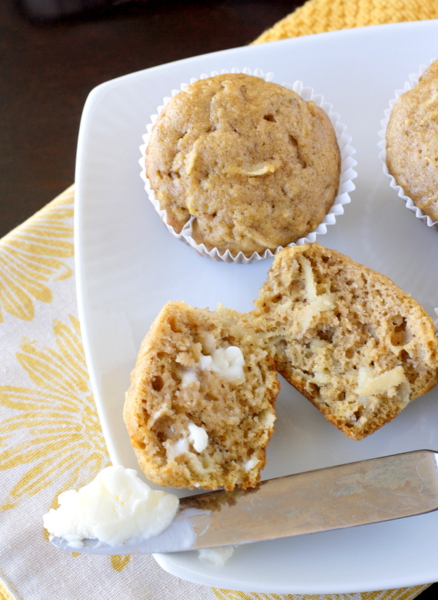 Ingredients:
2 cups all purpose flour
1 1/2 tsp baking soda
3/4 tsp baking powder
1/2 tsp salt
2 tsp cinnamon
1/2 tsp ginger
1/4 tsp cloves
1/4 tsp nutmeg
2 cups shredded apple
1 cup granulated sugar
1/2 cup applesauce
1/4 cup canola oil
3 eggs, lightly beaten
1 tsp vanilla
Directions:
Preheat the oven to 350. Line muffin tins with paper cups and set aside.
In a large mixing bowl, whisk together the flour, baking soda, baking powder, salt, and spices. In a separate bowl, mix together the apple, sugar, applesauce, oil, eggs and vanilla. Stir the wet mixture into the dry mixture until just combined. Be careful not to overmix. Fill the muffin cups 2/3 full and bake for 20 – 25 minutes, or until a toothpick inserted in the center comes out clean. Let the muffins cool in the tin for 5 minutes, then transfer to a wire rack to cool completely.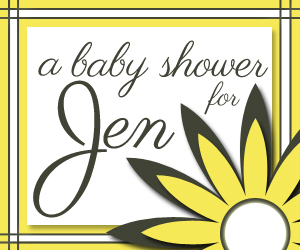 Be sure to check out the other participants! 🙂
Bluebonnets & Brownies | Raspberry Lemon Fruit Dip
Sugarcrafter | Sweet Potato Cake with Honey Buttercream
My Baking Addiction | Mini Pumpkin Pies
Simple Bites | English Eccles Cakes
Stetted | Roasted Red Pepper and Caramelized Onion Dip
Food for my Family | Homemade Pear Italian Sodas with Cardamom Cream
eat. live. travel. write. | Goat Cheese and Tomato Tartlettes
Gimme Some Oven | Creamy Caramel Apple Dippers
Dessert For Two | Caramel Apple Cookie Cups
Bake at 350 | Soft Sugar Cookies for a Baby Shower
A Thought For Food | Fingerling Potato Salad
TidyMom | Apple Pomegranate Spritzers
i am baker | Advice to a New Mommy
Healthy Green Kitchen | Guacamole with Pistachios
Tracey's Culinary Adventures | Caramelized Onion, Gruyere and Bacon Spread
What Megan's Making | Apple Spice Muffins
Cookin' Canuck | Gorgonzola Cheese Cups with Pear & Hazelnut Salad
Bellalimento | Frozen Berry Shortcake
Shugary Sweets | Caramel Apple Truffles
GoodLife Eats | Coconut Lemon Banana Bread