Slow Cooker Chicken In a Pot
This is one of those recipes that has already become a staple in our house. It's taken me a few weeks to share the recipe with you (what can I say, apple streusel bread seems more exciting), but this slow cooker chicken in a pot is absolutely wonderful. Plus, it's so easy to throw together. The chicken takes a small amount of prep work, but then it cooks in the crockpot all day, creating mouthwatering aromas in your kitchen. By the time it's done, the whole chicken is cooked to perfection and practically falling off the bone. It's tender and juicy and absolutely delicious. We usually eat this as a main dish the night I make it, then use the leftover chicken throughout the week in soups or casseroles.  It's so simple, but so good!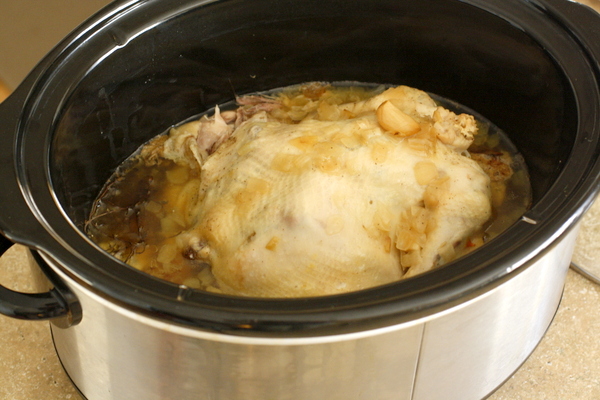 Slow Cooker Chicken In a Pot
Ingredients:
1 Tbsp extra-virgin olive oil
2 onions, roughly chopped
6 garlic cloves, peeled
1 Tbsp all purpose flour
1/4 cup dry white wine
1/4 cup low-sodium chicken broth
5 fresh thyme sprigs
2 bay leaves
1 (4 1/2 to 5 lb) whole chicken, neck and giblets removed
salt and pepper
Directions:
Heat oil in a large skillet over medium-high heat. Add onions and garlic and cook until onions are softened, 5-6 minutes. Stir in flour and cook for 1 minute. Slowly add the wine and chicken broth, scraping up any browned bits and smoothing out lumps. Transfer to slow cooker.
Add thyme sprigs and bay leaves to the slow cooker. Season the chicken with salt and pepper and place breast side down in the slow cooker. Cover and cook until the chicken is tender, 5-6 hours on low.
Transfer chicken to a cutting board, tent loosely with aluminum foil, and let rest for 20 minutes. Let braising liquid settle for 5 minutes, then remove fat from surface using a large spoon. Strain liquid, discarding any solids, and season with salt and pepper to taste. Carve chicken and serve with sauce.
from Slow Cooker Revolution