Pork Chops with Apples and Onions
I love it when I find a 30 minute meal that is both healthy and delicious. And this recipe for pork chops with apples and onions definitely delivers in both categories. Believe it or not, I think this is the first time I've ever cooked pork chops!  I'm not sure why I never think to buy them, but when I saw this fall inspired recipe, I decided it was time to change that. Mike and I both loved these pork chops. They were full of flavor and, because they're seared on the stove and then finished in the oven, they ended up being perfectly moist.  The sauce, made of apple cider, apples and onions, provides a great sweet and savory combination and goes perfectly with the pork. We even enjoyed the leftovers reheated the following day. This is a great fall meal and one we will definitely make again.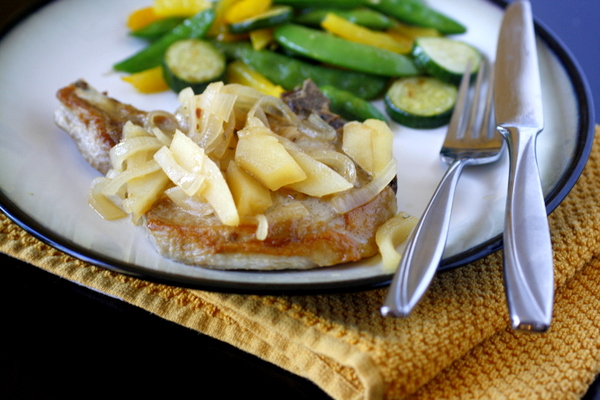 Pork Chops with Apples and Onions
Ingredients:
4 bone-in pork loin chops, 1-inch thick
Kosher salt
Extra-virgin olive oil
2 onions, thinly sliced
1 pinch crushed red pepper
2 Granny Smith apples, peeled, cored, and sliced
Pinch cinnamon
2 sprigs fresh rosemary, leaves finely chopped
2 cups apple cider
Directions:
Preheat the oven to 375 degrees F. Line a baking sheet with aluminum foil and spray with non-stick spray. Set aside.
Season the pork chops generously with salt. Coat a large saute pan with olive oil head over medium-high heat. Sear the pork on both sides, working in two batches if necessary. Remove the pork from the pan and place on the baking sheet. Transfer to the oven and bake for 10 to 12 minutes. Remove from the oven and let rest for 10 minutes before serving.
Remove the excess fat from the saute pan and add a Tablespoon of fresh olive oil. Add the onions and crushed red pepper and season with salt. Cook until the onions become soft and aromatic, about 5 minutes. Add the apples, cinnamon and rosemary and toss to coat with the oil. Add the cider and cook until the cider has reduced by two-thirds and the onion-apple mixture is very soft. Serve over the pork chops.