Roasted Cauliflower Soup with Bacon and Toasted Breadcrumbs
I've got another amazing soup recipe for you today! Seriously, I have had such a hard time figuring out which recipes to post first because they're all so good!  I can't say enough good things about this roasted cauliflower soup – we absolutely loved it! I've posted about cauliflower soup before (cheesy cauliflower soup), and I have to admit, this one is better. Roasting the cauliflower first gives it a really great flavor  – and we do love our roasted cauliflower! The best part though, is the bacon and toasted breadcrumb mix that is served with the soup. Seriously, I want to put this topping on every single soup from here on out! The recipe only makes enough soup for about 4 servings, and after we ate Mike told me that next time I should double the recipe. Please try this one – I'd say it was a pretty big hit at our house. 🙂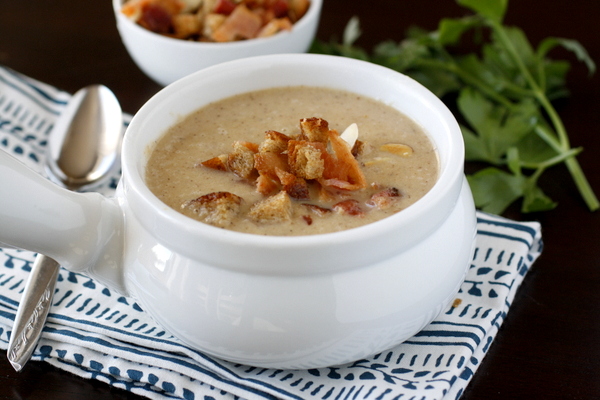 Roasted Cauliflower Soup with Bacon and Toasted Breadcrumbs
Yield: Serves 4
Prep Time: 20 min
Cook Time: 1 hour
Total Time: 1 hour 20 min
Ingredients:
8 cups cauliflower florets (about 1 large head)
2 tsp olive oil
1/2 tsp kosher salt, divided
1 Tbsp unsalted butter, divided
3/4 cup chopped yellow onion
4 garlic cloves, chopped
4 cups chicken stock
1 cup water
1/2 cup half and half
1 oz French baguette, roughly chopped into small pieces
4 slices bacon, cooked and roughly chopped
3 Tbsp sliced almonds, toasted
Directions:
Preheat oven to 450. Place cauliflower in a large bowl, drizzle with oil and sprinkle with 1/4 tsp salt. Toss to coat. Arrange mixture in a single layer on a jelly-roll pan coated with cooking spray. Bake for 40 minutes, or until tender and browned, stirring once after 25 minutes.
Heat a large dutch oven over medium heat. Add 1 1/2 tsp butter to the pan. Add the onion and garlic and saute 5 minutes, stirring occasionally. Add cauliflower, stock, and 1 cup water; bring to a boil. Reduce heat and simmer 20 minutes, stirring occasionally. Remove from heat and stir in the half and half and the remaining 1/4 tsp salt. Using an immersion blender, process the soup until smooth.
In a medium sized skillet, melt the remaining 1 1/2 tsp butter over medium heat. Add the bread pieces and saute 5 minutes, or until golden, stirring frequently. Remove form the heat and combine with the bacon and toasted almonds. Serve with the soup.
from Cooking Light, Jan/Feb 2013