Dark Chocolate Raspberry Pots De Creme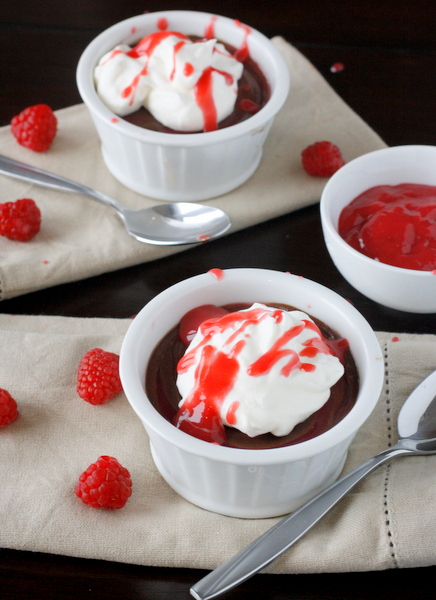 With a name like dark chocolate raspberry pots de creme, you really can't go wrong with this recipe! Chocolate and raspberry is such a wonderful combination, and when you have creamy dark chocolate custard swirled with a sweetened raspberry sauce, the end result is absolutely amazing. The custard is thick and creamy and rich, and the raspberry sauce adds a nice touch of tartness. In the picture below, you can see how pretty the raspberry swirls are. This dessert is good enough to serve as-is, but of course I had to add just a little bit extra! I topped the pots de creme with some lightly sweetened whipped cream and a little more raspberry sauce. The end result was decadent and delicious! Mike and I both loved these and since they are easy to make ahead, they would make a great dessert for company. After all, who can resist the combination of chocolate and raspberry?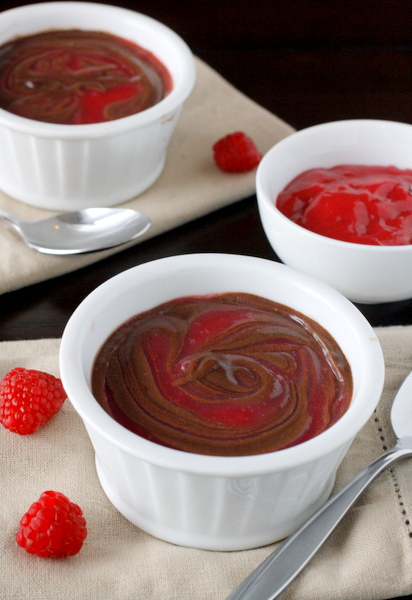 I was asked to participate in a pretty cool competition to come up with an indulgent dark chocolate recipe, and this is the recipe I came up with. Other bloggers also developed decadent recipes with dark chocolate and you can see all the recipes on the Pinterest board devoted to this contest. (Careful – this could be dangerous to look at on an empty stomach!). If you want to, you can vote for me by re-pinning and/or liking my pin. If you're not into voting (totally OK!), I at least encourage you to check out all the recipes. I have no doubt they're pretty amazing. 🙂 But in the meantime, I hope you enjoy this recipe for dark chocolate raspberry pots de creme – it's a keeper! 🙂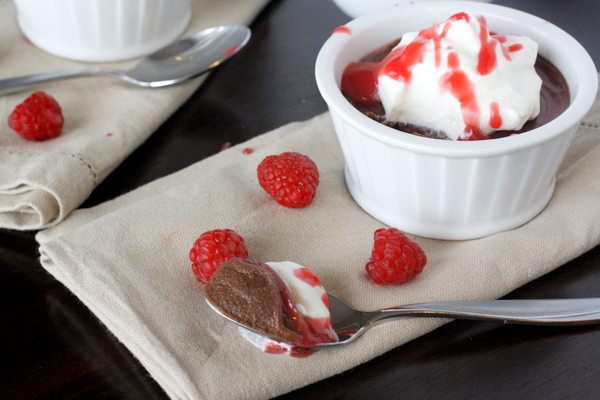 Dark Chocolate Raspberry Pots De Creme
Ingredients:
Pots De Creme
1 2/3 cups (10-oz package) Nestlé® Toll House® Dark Chocolate Morsels
1 3/4 cups heavy cream
1/2 cup whole milk
6 large egg yolks
6 Tbsp. granulated sugar
1/4 teaspoon salt
2 tsp vanilla extract
Raspberry sauce, recipe below
Freshly whipped cream, for serving
Raspberry Sauce
2 cups fresh raspberries
1/4 cup granulated sugar
1 cup water
2 Tbsp. cornstarch
Directions:
For the Pots de Creme:
Place the chocolate morsels in a large bowl and set aside.
In a medium-sized sauce pan, whisk together the cream, milk, egg yolks, granulated sugar and salt. Cook over medium heat, stirring constantly, until the mixture is thick enough to coat the spatula and register 175° F on a thermometer. Be careful to not let the mixture come to a boil.
Immediately pour the milk mixture through a fine mesh strainer over the chocolate in the bowl. Let sit for about 5 minutes to melt the chocolate. Add in the vanilla and stir until smooth. Divide the chocolate mixture among 8 ramekins or small cups. Add about 2 Tbsp of the raspberry sauce to each ramekin and swirl with a knife. Save any extra raspberry sauce for later. Cover and refrigerate until set, about 2 hours.
When ready to serve, top with lightly sweetened freshly whipped cream. Thin out some of the extra raspberry sauce with a little bit of water and drizzle over top of the whipped cream.
For the Raspberry Sauce:
Combine the raspberries and sugar in a medium-sized pot. Stir the cornstarch into the water until smooth and add to the pot. Heat over medium-high heat, stirring occasionally, until the mixture begins to boil. Turn down the heat and simmer for about 5 minutes, stirring constantly, until the mixture is slightly thickened. Using an immersion blender, puree until smooth and strain through a fine mesh strainer. The sauce will continue to thicken as it cools.
*I was compensated for my time and ingredients. All opinions are my own.