Peanut Butter Pretzel Brownies
I can't believe it took me so long to share these peanut butter pretzel brownies with you! I made these weeks ago, but somehow didn't get around to posting them until now. This is the ultimate brownie – a soft and fudgy chocolate base topped by a crumbly peanut butter layer, then covered with chopped up peanuts, pretzels and peanut butter chips. Doesn't that sound good?? And somehow they tasted even better than I imagined. The textures and flavors are incredible together. This brownie has it all – it's sweet, salty, crunchy and creamy all at the same time. I have no doubt you'll love it as much as we did!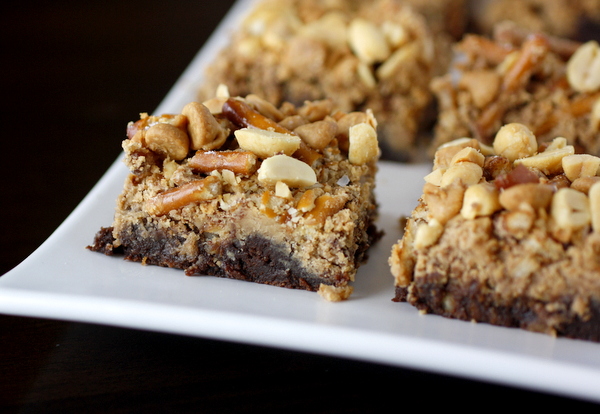 Peanut Butter Pretzel Brownies
Ingredients:
Brownies:
1/2 cup (1 stick) unsalted butter
1/2 cup (3 ounces) chocolate chips
1 cup sugar
1 tsp vanilla extract
2 large eggs
1/3 cup cocoa powder
1/2 cup all purpose flour
1/2 tsp salt
1/4 tsp baking powder
Topping:
1/4 cup (1/2 stick) unsalted butter, melted
1/2 cup confectioners' sugar, sifted
3/4 cup creamy peanut butter
1 cup broken pretzels
1 tsp vanilla extract
1/2 cup chopped lightly salted peanuts
1/2 cup peanut butter chips
Directions:
Preheat the oven to 350. Grease a 9-inch square (or an 11" x 7") baking dish and set aside.
For the brownies: In the microwave, on 50% power, microwave the butter and chocolate chips until melted, stopping to stir every 30-60 seconds. Transfer to a large bowl and stir in the sugar. Add the vanilla and eggs, one at a time, stirring to combine. In a separate bowl, whisk together the cocoa, flour, salt, and baking powder. Stir into the wet ingredients just until combined. Pour the batter into the prepared pan and set aside.
For the topping: Combine the butter, confectioners' sugar, peanut butter, half of the pretzels, and vanilla until smooth. Spoon this over the top of the uncooked brownies and swirl the two batters together with a knife. Sprinkle the remaining pretzels, peanuts, and peanut butter chips over the top of the brownies, pressing them down lightly. Sprinkle the top of the batter with a little additional sea salt.
Bake for 20-25 minutes, or until a tester inserted in the center comes out mostly clean, with a few moist crumbs attached. Remove from the oven and cool completely before cutting.
from the King Arthur Flour Baking Sheet