Creamy Sweet Potato Soup {with Parmesan Cheese Toasts}
I've got a great soup recipe to share with you today! I saw this creamy sweet potato soup recipe in a recent Cooking Light magazine and immediately marked it down as one I wanted to try. I love creamy soups in the fall and winter – especially ones that are somehow creamy without the use of heavy cream. This sweet potato soup has only a few ingredients,{almost} all of which are healthy, and yet is still thick and creamy and delicious.  The soup is just slightly sweet from the sweet potatoes, but the bacon and Parmesan cheese add a nice savory balance. Best of all, this is a super quick and easy recipe to make. And you definitely need to make the Parmesan cheese toasts to serve with the soup – they might have been my favorite part. 🙂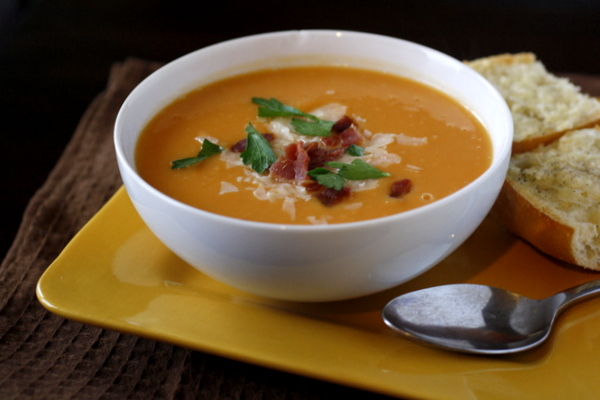 Creamy Sweet Potato Soup with Parmesan Cheese Toasts
Ingredients:
2 pounds sweet potatoes, halved lengthwise (about 3 large)
1/4 cup water
2 tsp olive oil
1 cup chopped onion
1/2 tsp ground cumin
1/4 tsp crushed red pepper
4 cups low sodium chicken broth
~1/4 teaspoon salt
6 bacon slices, cooked and crumbled
1 ounce freshly shaved Parmesan cheese (about 1/4 cup)
For Parmesan Cheese Toasts:
French bread baguette
butter
black pepper
freshly shaved Parmesan cheese
Directions:
Place potatoes, cut sides down in a microwave-safe baking dish. Add 1/4 cup water and cover with plastic wrap. Microwave 15 minutes or until potatoes are tender. Cool slightly and discard potato skins.
Heat a saucepan over medium-high heat. Add oil and swirl to coat. Add onion; sauté 1 minute or until translucent. Stir in cumin and red pepper. Add broth to pan and bring to a boil. Add in sweet potato and blend with an immersion blender until smooth. Stir in salt, to taste.
Serve with cooked bacon and Parmesan cheese on top.
For Parmesan Cheese Toasts:
Cut 6 ounces French bread baguette in half lengthwise; cut each half into thirds. Spread cut side of each piece with 1 teaspoon butter; sprinkle evenly with 1 ounce shaved fresh Parmesan cheese and ½ teaspoon freshly ground black pepper.
Arrange pieces, cut sides up, on a baking sheet. Broil 2 minutes or until cheese melts.