Cranberry Breakfast Bread
It's nice to take a break from all the treats and share this cranberry breakfast bread with you. (psst… if you missed any of the 12 Days of Christmas treats, you can find them all here). I made this cranberry bread last weekend and Mike and I both loved it. I actually made it to share with my Sunday school class and you should have seen the look on Mike's face when I told him he couldn't cut into it before church. 🙂 The bread is a wonderful combination of orange, cranberry, and walnut, and the orange glaze on top just might be the best part. The cranberries are roughly chopped, and their tartness is nicely balanced by the sweet orange flavor of the bread. All in all, this bread is perfectly delicious for the Christmas season.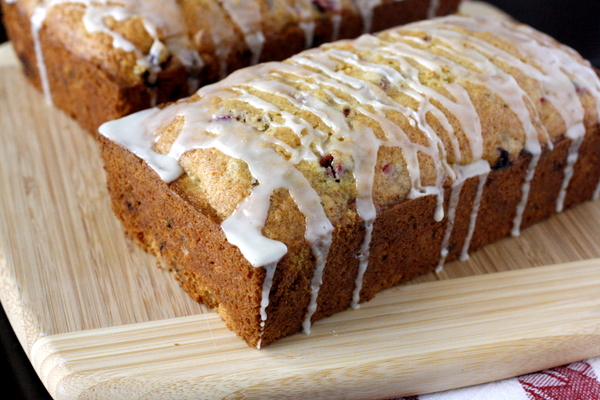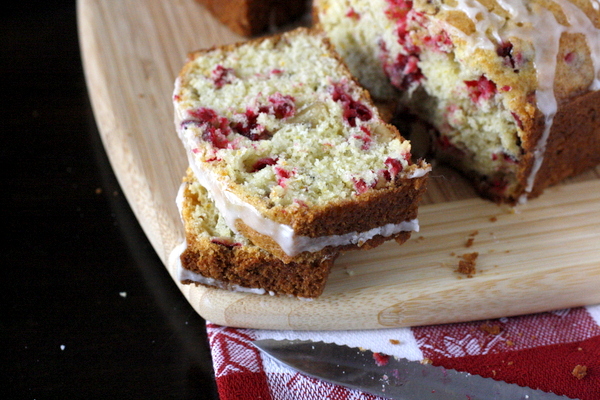 Cranberry Breakfast Bread
Ingredients:
1/3 cup vegetable oil
3/4 cup granulated sugar
1/4 cup milk
2 large eggs
1 teaspoon vanilla extract
zest from 1 orange (about 2 tsp)
1 cup fresh cranberries, roughly chopped
1 1/2 cups all-purpose flour
2 tsp baking powder
1/2 tsp salt
1/2 cup walnuts, chopped
For Orange Glaze:
1 cup powdered sugar
2 Tbsp. fresh orange juice
Directions:
Heat oven to 350 degrees F. Grease a standard size loaf pan and set aside.
In a large bowl, combine the sugar and orange zest and rub them together with your fingers until the sugar is moist and fragrant. Add in the oil, milk, eggs, vanilla, cranberries and mix well. Stir in flour, baking powder, and salt. Fold in chopped nuts. Pour into prepared pan.
Bake for 50-60 minutes, or until a toothpick inserted in the middle comes out clean and the top springs back when touched lightly. Meanwhile, whisk together ingredients for orange glaze and set aside.
Let bread cool 10 minutes before removing from the pan. Be careful as you remove it that the bottom is not stuck to the pan. Immediately drizzle glaze over the bread. Cool completely before slicing.