Pumpkin Coffee Cake
I really hope you all aren't sick of pumpkin yet! I know the rest of the internet has been going pumpkin crazy for months now, but I am just getting started. 🙂 Even if you are feeling a little tired of pumpkin, something tells me this pumpkin coffee cake just might change your mind about that. You will love this! The recipe title is a bit misleading – this recipe tastes more like a dessert cake than a traditional coffee cake. No matter what you call it though, it's definitely delicious. The cake is moist and tender, and full of fall spices and pumpkin flavor. The cake layer is delicious on it's own, but by the time you add the crumb topping and cinnamon glaze, you've got a dessert (or breakfast! ;)) that everyone will love.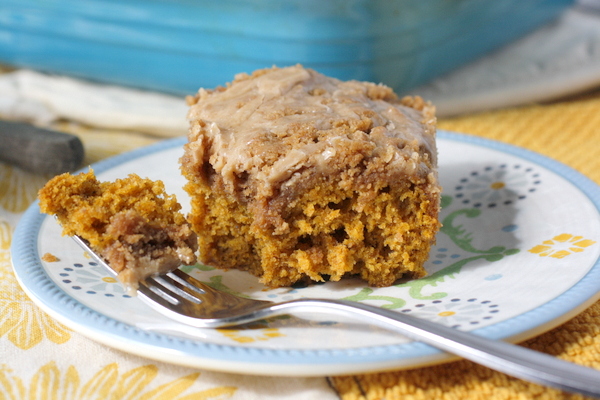 Pumpkin Coffee Cake
Ingredients:
Crumb Topping:
1/2 cup all-purpose flour
4 Tbsp unsalted butter
1/2 cup brown sugar
1/4 tsp salt
2 tsp cinnamon
Coffee Cake
2 cups all-purpose flour
1 tsp baking soda
1/2 tsp baking powder
1/2 tsp salt
2 tsp ground cinnamon
1/2 tsp ground nutmeg
1/4 tsp ground cloves
1 cup pumpkin puree
1/2 cup brown sugar
1/2 cup vegetable oil
1/4 cup pure maple syrup
1/4 cup buttermilk
Cinnamon Glaze
1 cup powdered sugar
1/2 tsp cinnamon
1-2 Tbsp milk or cream
Directions:
Preheat the oven to 350F degrees. Spray a 9x9 baking pan with nonstick spray. Set aside.
Make the crumb topping: In a small bowl mix together the flour, brown sugar, salt, and cinnamon. Cut in the butter using a pastry blender until small clumps form. Set aside.
Make the coffee cake: Whisk together the flour, baking soda, baking powder, salt, cinnamon, nutmeg, and cloves together in a large bowl. In a medium bowl, whisk the pumpkin, brown sugar, oil, maple syrup, and buttermilk together until combined. Pour the wet ingredients into the dry ingredients and stir until just combined. The batter will be very thick. Pour the batter into the prepared baking pan, spreading to make an even surface. Pour the crumb topping evenly on top and gently press into the batter.
Bake for 30-35 minutes, or until a toothpick inserted in the center comes out clean.
Make the glaze: Whisk the powdered sugar, cinnamon and 1 Tbsp of milk together until smooth. Add more milk to thin, if desired. Drizzle over cake.