Chex Scotcheroos
Day 8 of the 12 Days of Christmas Treats! I am so excited to finally share these chex scotcharoos with you! I made them months ago and have been saving them all this time so I could share them with you during the 12 days of Christmas treats. 🙂 These are so so good, and I know you will love them.
This recipe takes the basic idea of a scotcheroo (a classic bar cookie made with rice krispies) and turns it into something a little bit more fun and a little bit more delicious. And they are so easy to make! They take about 10 minutes to mix up and are a fun no-bake option for the holidays.
The cookies themselves are chewy and wonderful. They have the tried and true flavor combination of chocolate, peanut butter and butterscotch that makes scotcheroos such a favorite, but they are in cookie form! And the addition of chex cereal really makes these cookies stand out. I have no doubt these will quickly become a Christmas favorite.
*See all 12 days of Christmas Treats from 2014 here! 🙂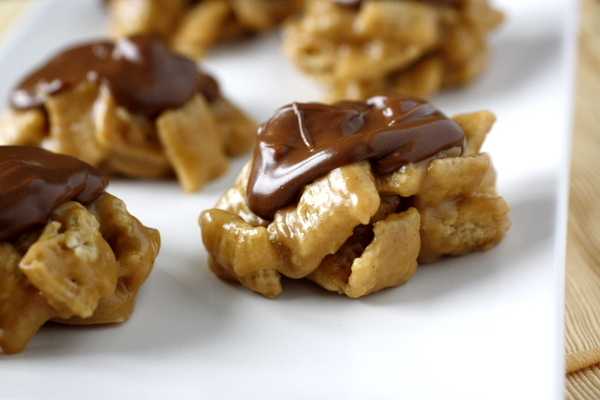 *Check out the delicious treats from previous years!  Homemade Peppermint Patties | Chocolate Drizzled Shortbread Bites | Ginger Molasses Pillow Cookies | Chocolate Peanut Butter Crunch Bars
P.S. You can see all of my Christmas treat recipes from over the years at this Christmas Cookies tag. Enjoy! And, as always, let me know if you try any and how you liked them.
Chex Scotcheroos
Ingredients:
1 cup light corn syrup
1 cup sugar
1 1/2 cups creamy peanut butter
6 cups Chex cereal
1 cup semi sweet chocolate chips
1 cup butterscotch chips
1/4 cup creamy peanut butter
1/2 tsp vanilla
Directions:
Combine corn syrup and sugar in a small pan. Cook over medium heat, stirring frequently, until sugar dissolves and mixture begins to boil. Remove from heat and stir in 1 1/2 cups of peanut butter. Pour over your 6 cups of cereal and fold together until well coated. Drop by spoonfuls onto wax paper.
In a medium sized, microwave-safe bowl, melt together the chocolate chips, butterscotch chips, 1/4 cup of peanut butter and vanilla at 50% power, stirring every 30 seconds so that chocolate does not burn. Spoon over cookies. Allow to cool completely before eating.