Asparagus with Cherry Tomatoes and Fresh Mozzarella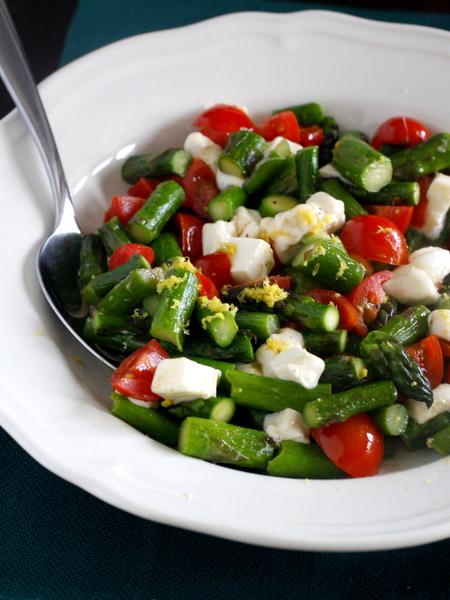 If you like asparagus, you will love this recipe! I am always looking for new ways to cook asparagus, and I think it's safe to say that this is a new favorite. Fresh asparagus is delicious this time of year, especially when sauteed in olive oil with a little bit of salt and pepper – simple and delicious! I also added in some fresh mozzarella for flavor and texture (and a nice dose of protein!) and some juicy cherry tomatoes. I love making use of fresh produce in the spring in summer – everything is so good on it's own that you hardly need any extra flavorings. For this asparagus dish, I just added in a little lemon zest at the end, which ended up being the perfect extra burst of flavor. Mike and I both devoured this dish, and we liked it so much that I made it again the next day! The second time we even added in a few extra vegetables and some leftover roasted chicken to make it into more of a light meal. I think it's safe to say this recipe will be a staple in our house this summer!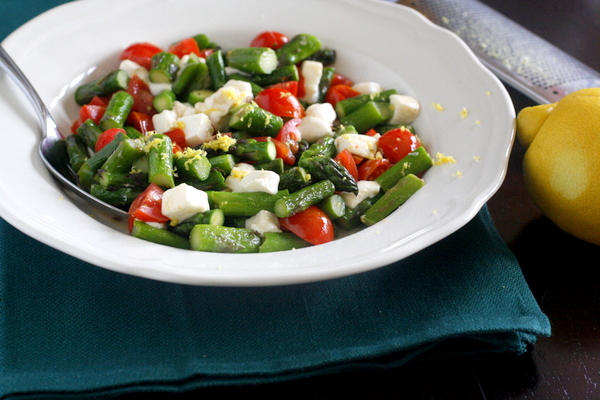 Asparagus with Cherry Tomatoes and Fresh Mozzarella
Ingredients:
1 pint cherry tomatoes
8-oz fresh mozzarella
1 lb asparagus (1 bunch)
1 Tbsp olive oil
1 tsp lemon zest
Directions:
Slice the cherry tomatoes into halves (or fourths, depending on how big they are) and set aside. Cut the mozzarella into small bite-sized pieces and set aside.
Trim the asparagus and slice into 2-inch pieces. Heat the oil in a large skillet over medium heat. Add the asparagus and sprinkle with salt and pepper. Cook, stirring occasionally, until tender, 4-6 minutes.
Remove from heat and stir in the cherry tomatoes and mozzarella.
Sprinkle with lemon zest and serve immediately.
*This post was sponsored by the United Dairy Industry of Michigan, but as always, all opinions are my own. I personally love working for UDIM because Milk is a local food, produced by hardworking Michigan farm families. That means cheese, yogurt and other dairy foods are local too! Follow UDIM on Facebook, Pinterest, YouTube, Instagram, and Twitter to find out why Milk Means More.