Fruit Salsa
How good does this fruit salsa look?? I've seen various versions of this delicious summer treat all over the place, and I have no idea why it took me this long to put my own spin on it.
I made this salsa for a family get together a week ago and served it with cinnamon sugar pita chips – and everyone LOVED it! I got repeated requests for the recipe, and my salsa bowl came home completely empty. Thankfully I had set a little aside back at home for Mike and I to enjoy. 🙂
I'm guessing you can use whatever fruits you want for this dish, but I used lots of strawberries, kiwi, mango, and apples. The strawberries were nice and fresh and were the perfect level of sweetness, and the chopped apples added a nice crunch. I stirred in lots of homemade strawberry jam at the end to bind it all together, and the end result was so good. Also, be sure to not leave out the lemon zest at the end – it gives the salsa a nice fresh taste.
I hope you like this one; it's going to be a summer staple at our house. 🙂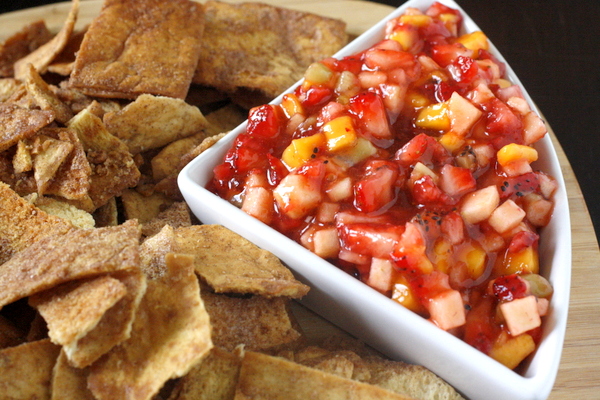 Fruit Salsa
Ingredients:
1 lemon
1 large granny smith apple
2 kiwis
1 1/2 lb strawberries
1 mango
2 Tbsp brown sugar
4 tablespoons strawberry jam, or more, to taste
Cinnamon Sugar Pita Chips, for serving
Directions:
Zest the lemon and set aside. Peel and finely chop apple. Squeeze 2 teaspoons lemon juice over apples and mix well to combine. Set aside.
Finely chop strawberries, kiwis and mango. Combine in a large bowl. Add in the lemon zest, chopped apples, brown sugar and jam. Stir together, adding more jam if necessary. Allow to sit at room temperature at least 15 minutes before serving.
Serve with cinnamon sugar pita chips.