Zucchini Oatmeal Chocolate Chip Cookies
Zucchini Oatmeal Chocolate Chip Cookies – that's a mouthful, isn't it? I almost added the words "whole wheat" into the name of these as well, but it seemed like a bit much. 🙂 No matter what you call them, you will want to make these cookies. They are so good! I love trying new zucchini recipes, and since we don't have a garden this year I had to beg an extra zucchini from a friend just to try this recipe. 🙂 This is a one-bowl recipe and only takes about 5 minutes to throw together. The cookies are absolutely delicious warm, but still tasted great after 3-4 days on the counter. Looking back, I can't believe they lasted that long because they are slightly addiciting. They are soft and just a little bit cakey, but they also have a great chewy texture from the oats. The chocolate chips give you chocolate in every bite, and really, what more can you ask for from a cookie? These zucchini oatmeal chocolate chip cookies are definitely a new favorite!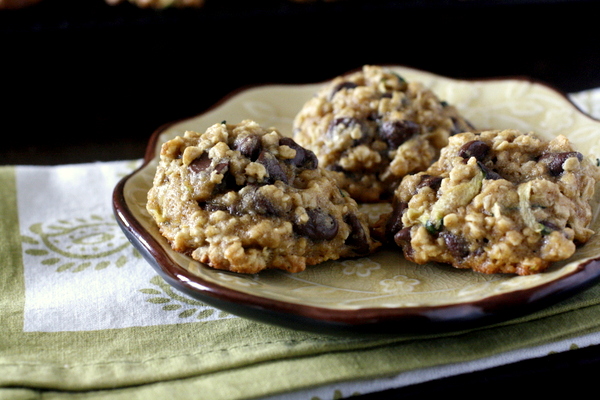 Zucchini Oatmeal Chocolate Chip Cookies
Ingredients:
1/4 cup vegetable oil
1 cup less 2 tablespoons brown sugar
1/2 tsp baking powder
1/4 tsp baking soda
3/4 tsp salt
2 tsp vanilla extract
1 large egg
1 cup shredded zucchini
2 cups chocolate chips
1 cup All-Purpose Flour or White Whole Wheat Flour
1 1/2 cups quick rolled oats
Directions:
Preheat your oven to 350°F. Lightly grease two baking sheets; or line them with parchment.
In a large bowl whisk together the oil, sugar, baking powder, baking soda, salt, vanilla, and egg until well combined. Stir in the zucchini and chocolate chips, then the flour and oats. Let the batter rest for 15 minutes to give the oats a chance to absorb some of the liquid.
Drop the dough by tablespoonfuls onto the prepared baking sheets, leaving about 1 1/2" between them. Bake the cookies for 14 to 16 minutes, or until they feel set on top and the bottoms are beginning to brown. Remove the cookies from the oven, and let them cool on the baking sheets.
Place cooled cookies in a covered container at room temperature. Store at room temperature for several days; freeze for longer storage.