Cheesy Penne Bake with Chicken Sausage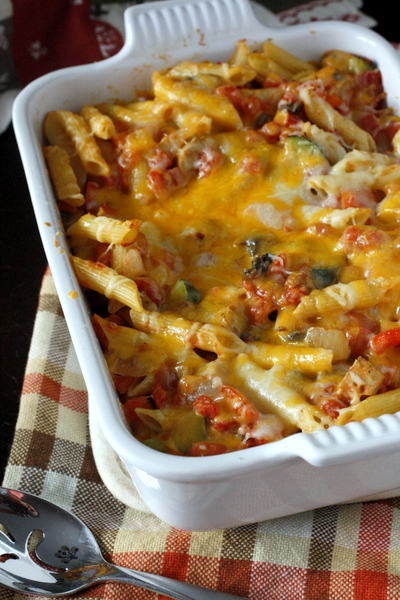 I took a break from all things Christmas and Christmas cookies to bring you this quick, easy, and healthy dinner recipe! This cheesy penne bake with chicken sausage is perfect for busy weeknights when you want something on the table quick, but you also want to feel good about what you're eating. Over the past month I've been participating in a healthy eating accountability group with my friends. (Yes, while making and posting the 12 days of Christmas treats – terrible idea!) I made this recipe during our challenge to eat 5 servings of fruit and vegetables a day, and this helped me meet my goal for two days! Plus Zeke loved it, which makes it a definite success. 🙂
This pasta bake is chock full of veggies and chicken sausage, which means it's not only healthy, but also filling. And of course it has plenty of cheese to add a little more protein, plus plenty of deliciousness. 🙂 Feel free to change up the type or amount of vegetables to suite your personal tastes. I used my favorites, but this recipe is easily customizeable. I hope you enjoy it as much as we did.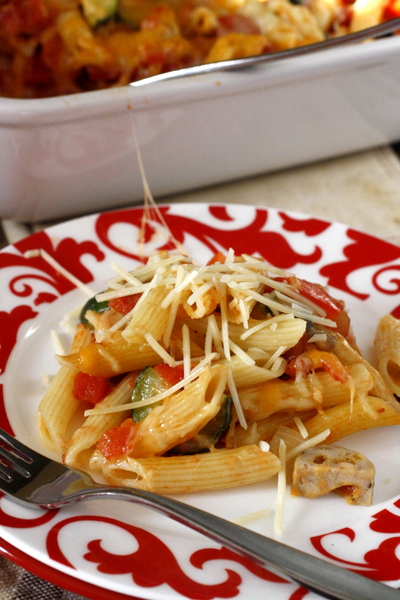 Cheesy Penne Bake with Chicken Sausage
Ingredients:
2 cups uncooked penne pasta
2 Tbsp olive oil
1 small onion, diced
1 red pepper, chopped into bite size pieces
1 small zucchini, chopped into bite size pieces
4 oz white mushrooms, sliced
1 garlic clove, minced
1 can (28 oz) diced tomatoes, drained
6 ounces precooked chicken sausage, halved lengthwise and sliced 1/4 inch thick
Salt and pepper
2 cups shredded cheese (I used half mozzarella and half sharp cheddar)
Directions:
Preheat oven to 350°F. Lightly grease a 2-qt baking dish and set aside.
Cook pasta according to package directions. Drain and set aside.
Meanwhile, in a large skillet, heat oil over medium high heat. Saute onion, pepper, zucchini, mushrooms, and garlic until tender, about 5 minutes. Stir in the tomatoes, chicken sausage, and salt and pepper to taste. Let come to a simmer and cook 2-3 minutes, stirring occasionally.
Remove from the heat and stir in the cooked pasta. Place half of the pasta mixture into the prepared baking dish. Sprinkle with half the cheese. Layer with remaining pasta and cheese. Bake, uncovered, at 350 for 15-20 minutes or until bubbly and cheese is melted.
This post was sponsored by the United Dairy Industry of Michigan, but as always, all opinions are my own. I personally love working for UDIM because Milk is a local food, produced by hardworking Michigan farm families. That means cheese, yogurt and other dairy foods are local too! Follow UDIM on Facebook, Pinterest, YouTube, Instagram, and Twitter to find out why Milk Means More.