Oatmeal Cookie Granola Bars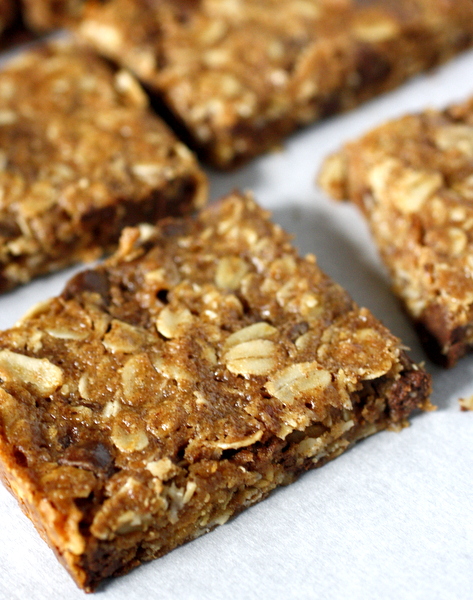 We love homemade granola bars around here, and these oatmeal cookie granola bars are no exception! After all, how can you go wrong with "oatmeal cookie" in the name?? 🙂
Oatmeal cookies are some of my favorite cookies – especially soft and chewy ones. Because of that, when I saw these granola bars, I knew I had to try them. These granola bars really do taste like oatmeal chocolate chip cookies, but they are a little bit healthier. 😉
These granola bars are perfectly soft and chewy – just like a delicious oatmeal cookie. They stay fresh on the counter top for days, or in the freezer for months. I made some before Emma was born and they've been perfect as on-the-go snacks for me or the kids.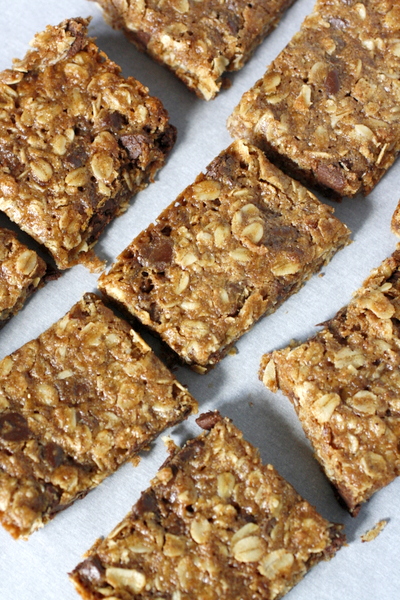 They are made with whole wheat flour, coconut oil and almond butter so they are wholesome and filling. And absolutely delicious. 🙂 And it's super easy to double the recipe and make a giant batch to freeze for later.
I used almond butter in these because Levi has a peanut allergy, but I'm guessing peanut butter or another nut butter would work just as well. If you wanted them to be a little healthier you could substitute raisins for the chocolate chips, but I haven't tried that yet. The chocolate chip version is just too good!
I hope you try these granola bars. After all, who doesn't like eating cookies for breakfast? 🙂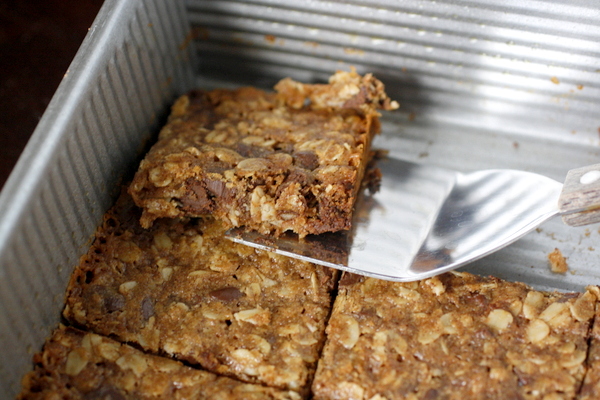 Oatmeal Cookie Granola Bars
Yield: Makes 12 granola bars
Prep Time: 10 minutes
Cook Time: 25 minutes
Total Time: 35 minutes
Ingredients:
1 cup old-fashioned rolled oats
1/3 cup whole wheat flour (or almond meal)
1 1/2 teaspoons ground cinnamon
1/4 teaspoon salt
1/4 cup coconut oil, melted
1/4 cup almond butter
1/4 cup honey
1/4 cup packed light brown sugar
2 teaspoons pure vanilla extract
1/2 cup chocolate chips
Directions:
Preheat oven to 325°F. Lightly grease an 8-inch square baking pan with cooking spray and set aside.
In a large bowl, mix all of the ingredients together until combined.
Transfer mixture to prepared baking pan and press firmly into an even layer. Bake for 25-28 minutes or until top appears set and it's golden brown around the edges.
Remove from the oven set on a wire rack to cool. Allow to cool completely in the pan before cutting into bars.
Cover tightly and store at room temperature for 1 week or freeze for longer storage.