Chocolate Chip Christmas Cookies
Classic double chocolate chip cookies with red and green sprinkles for Christmas!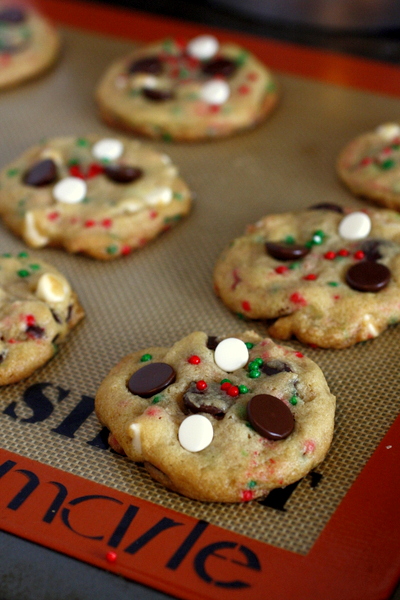 How cute are these chocolate chip Christmas cookies? When I first made them I couldn't stop talking about how pretty they were. I kept pointing it out to the kids saying "look, can you see the red and green sprinkles? Aren't they perfect for Christmas?" Unfortunately they were too busy trying to sneak unnoticed bites of cookie to answer me. Luckily I have all of you to share with! And seriously, aren't these cookies perfect for Christmas?? 🙂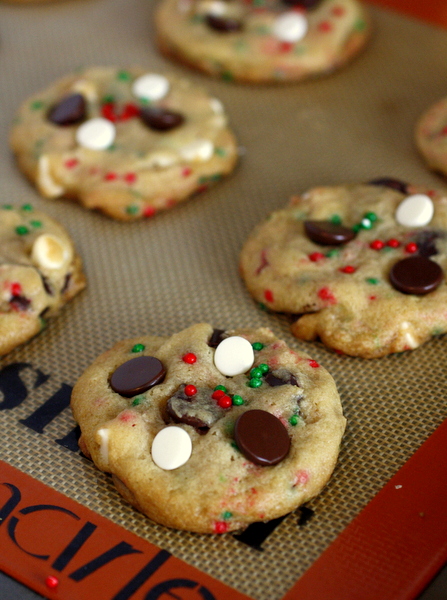 We love Christmas cookies around here! It's a serious problem. I have tons of old favorites (like these fresh cranberry lemon cookies and these Twix cookies!) that I would love to make every year, but I also have lots of new recipes that I want to try! And unfortunately not a lot of time to bake, especially without lots of little hands fighting over who gets to dump the ingredients in the bowl.
This recipe is a perfect mixture of old and new. Everyone loves a classic chocolate chip cookie, but here is a chocolate chip cookie that has been dressed up for Christmas! To make these extra festive I subbed out half the chocolate chips for white chocolate chips and threw in a bunch of red and green sprinkles! Add a few extra sprinkles on top before they bake, and you're left with some seriously Christmasy chocolate chip cookies. 🙂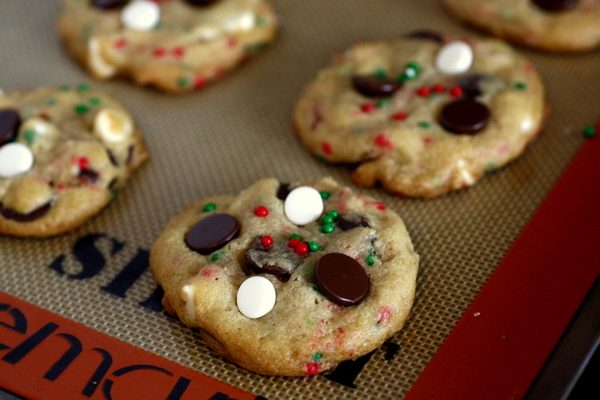 You've got to love how easy these are to make too! I had lots of little helpers dumping ingredients, taste-testing the chocolate chips, and adding extra sprinkles. This recipe is perfect for kids to help with because it's fairly straightforward and doesn't require any extra (messy) steps like rolling the dough or adding frosting.
My kids loved these, and everyone else I've shared them with has loved them too! The cookies are soft and chewy and chock full of chocolate chips. I hope you add them to your Christmas cookie trays – they're sure to be a hit with your friends and family!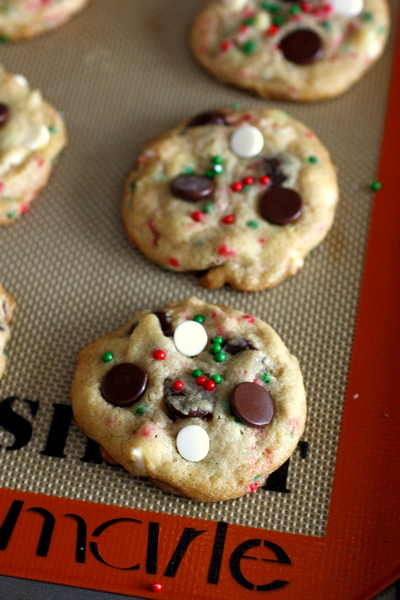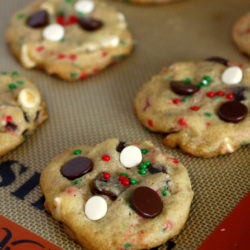 Chocolate Chip Christmas Cookies
Yield: Makes 24 Cookies
Prep Time: 10 minutes
Cook Time: 15 minutes
Total Time: 25 minutes
Classic chocolate chip cookies with red and green sprinkles for Christmas!
Ingredients:
8

 

tablespoons

 un

salted butter

 

melted

1/2

 

cup

 

brown sugar

1/4

 

cup

 

granulated sugar

1

 

large

 

egg

2

 

teaspoons

 

vanilla extract

1 2/3

 

cups

 

all purpose flour

1

 

teaspoon

 

baking soda

3/4

 

teaspoon

 

salt

1/2

 

cup

 

dark chocolate chips

1/2

 

cup

 

white chocolate chips

1/4

 

cup

 

red and green sprinkles
Directions:
Preheat oven to 350 degrees.

Add the melted butter, brown sugar, and granulated sugar to the bowl of a stand mixer and beat until well combined.

Beat in the egg and vanilla extract.

Add in the flour, baking soda, and salt. Mix until combined.

Stir in the dark and white chocolate chips and the sprinkles. *If you want, you can set aside a few chips to place on the top of the cookies later.

Portion dough into tablespoon size balls of dough. If desired, add a few extra sprinkles on top of each ball of cookie dough.

Bake for 9-11 minutes. Do not overbake. Cookies may look a bit underdone, but they will set up as they cool. If desired, place a few extra chips on top of the cookies as soon as they come out of the oven.

Leave the cookies on the baking sheet for at least 5 minutes before removing to a cooling rack to cool completely.

Store, tightly covered, for up to 5 days.
*Note: If your cookies are spreading more than you'd like, you can try chilling the cookie dough balls on the cookie sheet for 15 minutes before baking.
recipe source: Buns in my Oven