Best Ever Banana Bread

Last week I made banana bread to take into work. I love to make banana bread, and I've tried a lot of different kinds, but this one is by far my favorite. I got it from my best friend, and I would say it lives up to its name of "Best Ever" banana bread. It's a very versatile recipe. The bread in the pictures was made according to the recipe, but I've experimented with half whole wheat flour, adding chocolate chips, etc. Each time it turned out wonderfully.  The bread is moist and sweet and full of banana flavor. Plus it's incredibly easy to make and chances are you have all the ingredients in your house already.  If you're looking for a tried and true banana bread recipe, give this one a try. I'm sure you'll love it.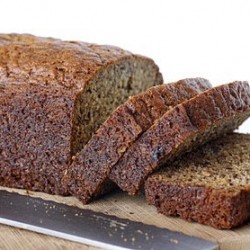 Best Ever Banana Bread
Ingredients:
1/2 cup shortening
1 1/4 cup sugar
2 eggs
5 overripe bananas
2 cups all-purpose flour
1 tsp salt
2 tsp baking soda
2 Tbsp wheat germ
Directions:
Preheat the oven to 350. Grease 2 loaf pans (I used 8 1/2 x 4 1/2 size pans). Cream together the shortening and sugar in the bowl of an electric mixer. Add the eggs and bananas; blend until the bananas are thoroughly mashed. Sift the flour, salt and baking soda into a separate bowl; stir in the wheat germ. Add the dry ingredients to the banana mixture and blend until just mixed. Pour the batter into the prepared loaf pans, dividing it evenly. Bake for 40-50 minutes. The bread is done when the top springs back after being pressed in the center with fingertips.