Mystery Cake
This is one of our new favorite cakes and I'm already looking for a reason to make it again. It's so easy to put together and it tastes so good! The cake itself is a fairly basic spice cake with the classic flavor of cinnamon and cloves. The moist and dense texture, however, is what really makes it stand out.  It's a cake with substance. As for the name, well it has a "mystery"ingredient. One that you would never expect to find in a cake.
That's right. A can of tomato soup goes into this cake. But don't worry. It definitely does not taste like tomatoes. If it did, Mike would not have eaten as many pieces as he did (which was a lot.) He raved about this recipe, saying repeatedly "I love this cake." And incidentally, this is the same husband who refuses to ever eat tomato soup, even with grilled cheese sandwiches! Of course I didn't tell him what went into the cake (I wanted him to eat it after all.) As of the writing of this post he still doesn't know, and I will probably have a very surprised husband when he reads this post.
This cake truly  is wonderful. According to King Arthur Flour, the source of this recipe, it can be served as a snack cake, or with a light vanilla glaze. I disagree. I think a good thick spice frosting is what is really needed to make this cake perfect.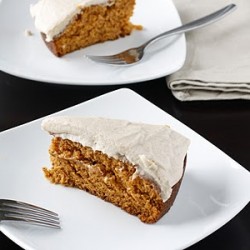 Mystery Cake with Spice Icing
Ingredients:
For the Cake:
4 Tablespoons unsalted butter, softened
1 cup granulated sugar
1 large egg, well beaten
1 can condensed tomato soup (Campbell's preferred) 10 3/4 ounce size
1 teaspoon baking soda
1 1/2 cups All Purpose Flour
1/2 teaspoon baking powder
1 scant teaspoon ground cloves
1 teaspoon cinnamon
Spice Icing:
1/4 cup butter, softened
1 1/4 cups powdered sugar
1/4 tsp cinnamon
1/8 tsp nutmeg
1/2 to 1 Tablespoon whipping cream
1/2 teaspoon vanilla extract
Directions:
For the Cake: Preheat oven to 350°F. Lightly spray a 9" round cake pan with cooking spray. Line with a parchment circle and spray lightly again. Cream butter and sugar in large bowl. Add egg and mix well.
Combine baking soda with undiluted soup in can. Let foam for 1 minute. Pour soup mixture into butter/sugar/egg and blend well. Mixture will look slightly curdled. This is normal.
In a small bowl combine flour, baking powder and spices. Whisk well and add to tomato soup mixture. Beat together for 1 minute on medium speed. Pour into prepared pan and bake for 30-35 minutes. Cool on wire rack and ice as desired.
Spice Icing: Blend butter, sugar and spices. Stir in cream and vanilla. Beat until frosting is smooth, light and fluffy. Add additional sugar and/or cream until icing has the desired taste and texture.