Crepes (for breakfast or dessert)
I have to thank Jessica at How Sweet It Is for this wonderful idea. She made some ice cream filled crepes on her blog that looked incredible! As soon as I saw her pictures, I knew I wanted crepes for breakfast on Saturday morning. I followed a simple recipe from the Joy of Cooking to make the crepes. I used black raspberries for the filling since we had them in the freezer from berry picking last summer, but any traditional crepe filling would be great. I heated the berries in the microwave, mixed them with sugar and rolled them up inside the crepe. Add a dusting of powdered sugar and you have a very delicious (and sweet) breakfast.
Of course, I had to save a few crepes to fill with ice cream. I thawed about 1/2 cup of ice cream on the countertop for a few minutes, then split it between 2 cooled crepes. I folded the crepes around the ice cream (although I probably could have rolled it up like a normal crepe), then stuck it in the freezer until after dinner. I made Jessica's homemade hot fudge sauce to serve on top and it was incredible! For days afterwards, I kept eating spoonfuls of hot fudge out of the refrigerator…does anyone else do that? Thankfully I only made a half batch, so it was gone before too long 🙂 This was such a fun idea and a great unique dessert. Mike raved about the breakfast version and the dessert version. We'll definitely be having this again.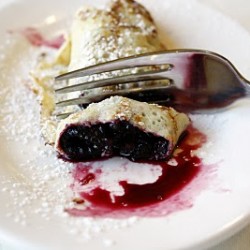 Crepes
Ingredients:
Crepes:
1 cup all purpose flour
1 cup milk
1/2 cup lukewarm water
4 large eggs
1/4 cup (1/2 stick) butter, melted
1/8 tsp salt
3 Tbsp sugar
Hot Fudge Sauce:
1 cup sugar
1 cup cocoa
2 tablespoons flour
pinch of salt
1 cup boiling water or scalding milk
1 tablespoon of butter
1 teaspoon of vanilla
Directions:
Crepes
Combine all ingredients in a bowl and mix until smooth. Cover with plastic wrap and let stand for 30 minutes, or refrigerator for up to 2 days.
Heat a nonstick pan over medium high heat. (If not using a nonstick pan, add about 1/2 tsp of butter to the pan). Lift the pan off the heat and slowly pour in enough batter to cover the entire bottom with a very thin coating (about 1/4 cup). Quickly tilt and rotate the pan, then return to the heat and cook until the crepe bubbles and the bottom is lightly browned, about 1 to 1 1/2 minutes. Turn the crepes with a spatula or with your fingers. Return the pan to heat and cook the second side until browned, but not evenly. Slide the crepe onto a wax paper-covered plate.
Spread 3-4 Tbsp of filling in the center of the pale side of each crepe, leaving a 1-inch border all around, then roll up the crepes
Makes 12 crepes
For the Hot Fudge: Combine sugar, cocoa, salt, and flour in a bowl or pot over a double boiler. Bring water or milk to a boil. Gradually add hot liquid to sugar mixture. Stir constantly until mixture thickens.
Once it has reached the desired thickness, remove from heat and stir in butter and vanilla.
*I liked this best after I kept it in the refrigerator and then re-heated it. It was nice and thick and fudgy!