Onion and Pepper Smothered Round Steak
Round steak is cooked until tender and smothered in a comforting mix of peppers and onions and gravy!
Once, a long time ago, my parents gave me a round steak from the different cuts of beef that they bought. I, having no idea what a round steak was, stuck it in the freezer for months and months. Then, last week, after being inspired by the Williams Sonoma class on searing and simmering, I decided to thaw the steak and ended up cooking a really great dinner.
In my opinion, a round steak is a very strange cut of meat. It's pretty thin and…well, round. I actually just googled round steak recipes until I found one that looked good, and here we are! 🙂 This round steak recipe ended up being just what I was looking for. It's comfort food at its finest. The meat is cooked gently until tender, and then smothered in peppers and onions and the most delicious gravy.
The first time I made this recipe I served with mashed potatoes, which was delicious! My kids don't actually like mashed potatoes (strange, right??), so ever since then I've served this recipe over noodles. I actually prefer the noodles, but I think this meal would be good with almost anything (cous cous, rice, or even stuffed into a tortilla!) The beef took awhile to cook, but most of the time was spent simmering with an occasional stir, so it isn't very hands on. Plus we got a few days of meals out of this one recipe, so I think it was time well spent. 🙂
Mike rated this "a solid 4", then switched it to 4.125, just to give it a slight edge over all those other "4" recipes out there. He looked so pleased when he saw what was for dinner and exclaimed "now this is good hearty food." That's a welcome change from a few other recipes (ahem…tortellini vegetable soup), where he looked at it tentatively and said "is this even going to fill me up?". So make this meal…it's very husband friendly.
Looking for other dinner ideas? Check out these delicious recipes: Cheesy Penne with Broccoli and Chicken Sausage : Beef and Broccoli Stir Fry : Skillet Chicken, Broccoli, and Penne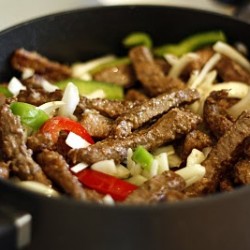 Onion and Pepper Smothered Round Steak
Yield: Serves 6
Prep Time: 15 minutes
Cook Time: 1 hour 30 minutes
Total Time: 1 hour 45 minutes
Round steak is cooked until tender and smothered in a comforting mix of peppers and onions and gravy!
Ingredients:
Onion and Pepper Smothered Round Steak:
2 1/4 pounds thin top round steak, sliced into strips about 1/4-inch thick
1 1/2 tablespoons Essence (recipe below)
2-3 Tbsp vegetable oil
3 tablespoons all-purpose flour
3 cups beef broth, divided
6 cups sliced onions
2 cups sliced red and green bell peppers
salt and pepper
1 tablespoon freshly chopped parsley leaves
Emeril's Essence:
2 1/2 tablespoons paprika
2 tablespoons salt
2 tablespoons garlic powder
1 tablespoon black pepper
1 tablespoon onion powder
1 tablespoon cayenne pepper
1 tablespoon dried oregano
1 tablespoon dried thyme
Directions:
Combine the meat with the Essence and flour in a mixing bowl and toss to combine.
Heat the oil in a large cast iron Dutch oven or high-sided skillet over medium-high heat and brown the meat, in batches, until browned on all sides, 4 to 5 minutes.
Remove the meat to a plate. Add 2 cups of the broth and stir to deglaze the pan.
Return the meat to the skillet. Add the onions, and bell peppers. Add salt and black pepper to taste (I didn't need to add much). If you like things spicy, add in a little extra cayenne.
Cook, stirring frequently, for 6 to 8 minutes, or until the vegetables are wilted. Keep the liquid simmering, but don't let it come to a boil.
Reduce the heat to medium. Cover and simmer, stirring occasionally, for 15 minutes.
Add the remaining cup of broth and continue to simmer, uncovered, for about 1 hour longer, or until the meat is very tender and the gravy is thickened and flavorful.
Add the parsley and serve immediately. This is great over potatoes, rice or egg noodles.
For the Essence: Combine all ingredients thoroughly.
Yield: 2/3 cup