Monster Cookies
My college cafeteria served some pretty bad food. Almost inedible at times. But the one thing they did right was desserts. I don't know how, but they seriously made some amazing desserts. The one that really stood out in my mind was Monster Cookies. Huge cookies full of oatmeal, peanut butter, m&m's, chocolate chips, and I don't know what else. Amazing. I've tried other versions from other places, but none has come close to the memory of what I had in college. Until now. And I've just learned that I can make them at home. This could be dangerous.
These cookies are chock full of delicious ingredients. Just look at that cookie dough. Doesn't it look like you could just take a spoon and eat it? (Not that I did that. Actually, I really don't want to say how much of this cookie dough I ate. Enough that Mike had to tell me to stop eating it). But as good as the cookie dough is, the end result is better. The cookies just seem to melt in your mouth. They have such a variety of textures and flavors that combine to make a rich delicious cookie that I just can't stop eating. Please try these and let me know what you think.
p.s. As a side benefit, these are gluten free! (I think…please correct me if I'm wrong).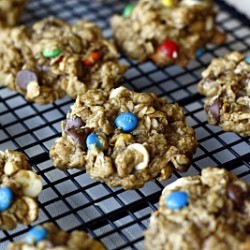 Monster Cookies
Ingredients:
2/3 cup butter
1 1/4 cups dark brown sugar
3/4 cup granulated sugar
1 1/2 cups chunky peanut butter
3, eggs beaten
5 1/2 cups old fashioned oatmeal
2 teaspoons baking soda
1/2 cup milk chocolate chips
1/2 cup white chocolate chips
6 ounces M&M Minis
Directions:
Melt the butter in a large bowl in the microwave. With a large wooden spoon, blend in the brown sugar, granulated sugar, and peanut butter. When the temperature of the mixture has dropped enough so it won't cook the beaten eggs, add the eggs and stir until the batter is just mixed. Then, in order, stir in the baking soda, the white chocolate chips, the milk chocolate chips, and the M&Ms. Add the oatmeal, one cup at a time, stirring after each addition. Cover the bowl tightly with plastic wrap and chill for at least two hours.
Preheat the oven to 350°F. Drop dough on parchment-lined baking sheets with a large spoon, making sure the dough is fairly well packed. (I just kind of formed it with my hands). Flatten slightly. Bake for 10-12 minutes or until lightly golden brown. Watch the cookies carefully, as they have a tendency to burn easily. Let cook on baking sheet for 1-2 minutes, then transfer to a cooling rack. I slightly under-baked mine, and they were perfect after they cooled.