Sloppy Joes
This is such a simple classic dinner. I feel kind of silly even posting it, it's so simple. But I've been making an effort to put some quick easy dinner options on the blog, and well, we ate this last week, so here it is. Plus, sloppy joes are good. And I have had multiple people tell me that these are the best sloppy joes they've ever had. People who don't normally even like sloppy joes. So you might want to give them a try.
The recipe comes from my grandma, passed down to my mom, and then to me. I don't know if it could get any simpler. Ground meat, onion, a few sauce ingredients, and you're done! Ready to eat in about 10 minutes, yet absolutely warm and comforting. The only time I struggle with this meal is when I forget to thaw the ground meat the night before (which happens pretty much every time I make it). Incidentally, Mike really likes these, despite the fact that he claims to dislike both ketchup and mustard, which are pretty much the only ingredients in the sauce.
p.s. we served these on homemade buns and they were great!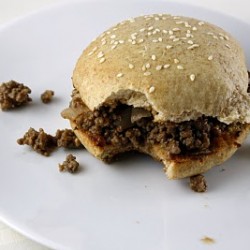 Sloppy Joes
Ingredients:
1 lb ground meat
1 small onion
1/2 cup ketchup
1/2 cup water
1/2 Tbsp mustard
1/2 Tbsp sugar
sweet relish
Directions:
Brown ground meat and onion in a large pan. Add remaining ingredients and mix well. Simmer until warmed through. Add in sweet relish to taste. Serve on toasted buns.
*My grandma's original recipe calls for double the amount of sauce. I always found this to be too wet for our tastes, so I cut it in half. Adjust according to your tastes.