Restaurant Style Salsa
We have a crazy week coming up, with some fun things planned, so this is just a quick post. I have a couple guest posts lined up for next week that you're not going to want to miss, but I wanted to make sure to get this recipe out here because I've had a few people asking for it!
I always thought fresh homemade salsa would be difficult and time consuming. But by starting with canned tomatoes, this came together in just a few minutes and tasted incredible. Just a few simple ingredients, a whirr in the food processor, and you have restaurant style salsa that will impress your friends and family. A note on the food processor however – make sure it's big enough, or cut the recipe in half. My salsa overflowed and I had a huge mess. But still just a small price to pay for the end result. 🙂 Seriously, everyone loved this salsa and I've gotten multiple requests for the recipe. I shouldn't be surprised – the recipe comes from The Pioneer Woman, and you can't really go wrong with one of her recipes. Add this to your 4th of July menu plans and your guests will love it 🙂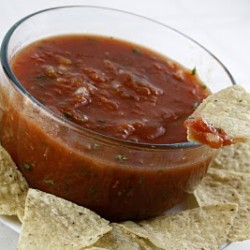 Restaurant Style Salsa
Ingredients:
1 can (28 oz) whole tomatoes with juice
2 cans (10 oz each) diced tomatoes with green chilies
¼ cups chopped onion
1 clove garlic, minced
¼ teaspoons sugar
¼ teaspoons salt
¼ teaspoons ground cumin
½ cups cilantro (or more to taste!)
½ whole Lime Juice
Directions:
Combine whole tomatoes, diced tomatoes, onion, garlic, sugar, salt, cumin, lime juice, and cilantro in a blender or food processor. Pulse until you get the salsa to the consistency you'd like, about 10 to 15 pulses. Test seasonings with a tortilla chip and adjust as needed. Refrigerate salsa for at least an hour to allow the flavors to meld.
*Notes: I cut this recipe in half, which was the perfect amount for our get together. The original recipe called for a jalapeno pepper, quartered and sliced thin, but I left it out and it was still plenty hot. I also added extra cilantro because I love it, and used a can of diced tomatoes instead of the whole tomatoes because they were cheaper. It was delicious 🙂