S'mores Cookies
Apparently Tuesday was national s'mores day and I missed it. I'm a little late, but trust me, these cookies are worth the wait. After the sucess of my s'mores whoopie pies, I was on the search for more s'mores type cookies. I made these fun little cookies for our camping trip last weekend and they were a big hit! You can never have too many types of s'mores on a camping trip right?
These cookies are so good and slightly addicting. I've mentioned before that I don't really like s'mores, but I definitely like these cookies. Plus they're cute, which is always a plus. They're basically a chocolate chip cookie with graham cracker crumbs replacing part of the flour.  The addition of hershey bars and marshmallows really does make them taste like s'mores!
My cooies turned out pretty flat, but they still had a soft and chewy texture.  They are slightly time consuming to make, and I don't recommend starting them late at night while you're also trying to last-minute pack for a camping trip. But I can tell you (from experience), that these are worth it. A great unique summer cookie, and a delicious way to enjoy the taste of s'mores, without the campfire.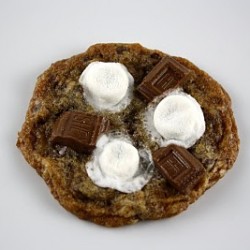 S'mores Cookies
Yield: Makes approximately 4 dozen cookies.
Ingredients:
1 1/2 cups all purpose flour
1 cup graham cracker crumbs
1 teaspoon baking soda
1 teaspoon salt
1 dash of cinnamon
1 cup (2 sticks) butter, softened
3/4 cup sugar
3/4 cup brown sugar
1 teaspoon vanilla extract
2 eggs
2 cups miniature chocolate chips
1 1/2 cups mini marshmallows
4 Hershey bars, chopped
Directions:
Preheat oven to 375 degrees.
In a medium bowl combine the flour, graham cracker crumbs, baking soda, salt, and dash of cinnamon. In a second larger bowl beat together the butter, sugar, brown sugar and vanilla extract until creamy. Add the eggs one at a time, beating well after each addition. Slowly beat in the flour mixture until smooth. Stir in the chocolate chips. Drop by rounded tablespoon onto ungreased cookie sheet.
Bake for 8 minutes, and remove from the oven. Push 3 to 4 marshmallows and a few pieces of hershey bar into each cookies. Return to the oven and bake an additional 3-4 minutes until fully cooked. Cool cookies on a wire rack.