Carrot Parsnip Soup
To be honest, I was a little hesitant to share this soup with you. I mean, really….carrot and parsnip soup? Does that even sound appealing?  And has anyone out there ever even eaten a parsnip?  But in the end I realized I just couldn't keep this recipe from you because, as it turns out, I loved this soup. Absolutely loved it.
And yes, I realize it looks exactly like the butternut squash soup I shared a few weeks ago. I struggled taking these pictures because I had used up all my good ideas already. But I didn't let that deter me, because I knew that I had to get the word out about this soup. This warm, creamy, delicious soup.
The ingredients for this soup include carrots, parsnips, onions, chicken broth….and nothing else. I have to admit, I had my reservations while making this. Especially when I tasted a parsnip (for the very first time ever) and didn't really like it. I thought oh my goodness, am I wasting all of my freshly made chicken broth? And yet I persevered, and I was rewarded with a wonderfully delicious pot of soup. For those who have never seen a parsnip before and have no idea what it is (this was me), it's a root vegetable that's kind of like a white carrot. It's also similar to a potato, and ends up giving the soup a smooth and creamy quality. The carrots add a hint of sweetness, and it all comes together into a warm and inviting pot of soup that I somehow managed to eat for 4 days straight.
Suffice it to say Mike did not like this soup. His response: "Please don't make me eat anything else made with vegetables I've never heard of." Perfect – I had no problem finishing it off 🙂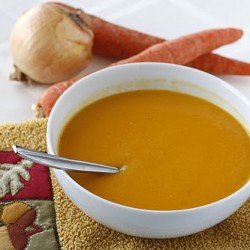 Carrot and Parsnip Soup
Ingredients:
1 1/2 Tbsp unsalted butter
1 yellow onion, chopped
1 lb carrots, peeled and coarsely chopped
1 1/4 lb parsnips, peeled and coarsely chopped
6 cups chicken stock
4 cups water
Salt and Pepper, to taste
Directions:
In a large soup pot or Dutch oven over medium heat, melt the butter. Add the onion and saute, stirring occasionally, until soft, about 10 minutes. Increase the heat to high, add the parsnips, carrots, stock and water and bring to a boil. Reduce the heat to medium-low and simmer, uncovered, until the vegetables are tender, about 30 minutes.
Using a blender and working in batches, puree the soup on high speed until smooth, 3 to 4 minutes per batch. Return the soup to the pot and reheat to serving temperature. Season with salt and pepper.
If you like what you see, you may want to sign up to get free email updates or subscribe via rss. 🙂
p.s. I just joined facebook! Come on over to my page and "like" me 🙂