Apple Cinnamon Roll Cupcakes
If you are looking for an amazing, decadent, and fun breakfast that everyone will rave about, don't even read the rest of this post. Just scroll down, click the "printable recipe" link and get to work. These delightful little treats look like cupcakes, but because they're technically cinnamon rolls, I didn't feel guilty eating them for breakfast. 🙂  I took these to some friends and family the morning I made them and they were completely devoured. They were a huge hit and Mike actually started to get sad when he thought I was giving them all away.
Admittedly, as good as these are, they are slightly time consuming. But the look of shock and delight when you present your friends and family with a platter of these cinnamon roll cupcakes will make it totally worth it.  They're gooey, full of sweet cinnamon apples, and the glaze on top is literally the icing on the cake. This is another recipe I have yet to make again, purely because I'm afraid of how many I would eat. What can I say, I lack self control.
*Note: I had a very hard time getting the wrappers off these cupcakes once they cooled. By the second day they were fine, but the first day you kind of had to eat the cupcake out of the wrapper. If you eat them while they're still warm, or microwave them before serving they should be fine. Next time I might forego the wrapper all together and heavily spray the cupcake pan instead. If you do that, be sure to remove the cupcakes from the pan before they cool, otherwise they will be stuck!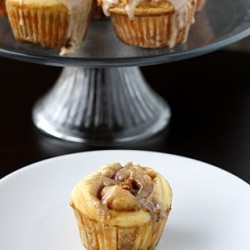 Apple Cinnamon Roll Cupcakes
Yield: Yield: 24 cupcakes (at least)
Ingredients:
Dough:
2 cups 2% milk
1 tablespoon (.5 oz) active dry yeast
1/3 cup sugar
2 teaspoons salt
6 ½ cups all-purpose flour, divided
2 eggs
¼ cup unsalted butter, room temperature
Filling:
½ cup unsalted butter, melted
1 cup sugar
1 cup brown sugar
3 tablespoons cinnamon
1 cup loosely chopped pecans
2 cups finely chopped tart apples
Glaze:
1 cup Powdered Sugar
½ teaspoons Cinnamon
2 teaspoons Corn Syrup
1 teaspoon Vanilla
Heavy Cream (Enough To Let Icing Reach Consistency Of Honey)
Directions:
For the cupcakes: In a small saucepan or a microwave, warm milk to about 110 F. In a large mixing bowl, dissolve yeast and sugar in the milk. Add salt and two cups of flour and beat for two minutes. Beat in eggs and butter. Stir in the remaining flour a half cup at a time, beating well after each addition. Turn the dough out onto a lightly floured surface and knead until smooth and elastic (about five minutes). Place the dough in a large bowl and cover it with a towel. Set in a warm place and allow to rise for 40 minutes or until approximately doubled in volume.
Roll out dough into a long rectangle about 1/4" thick. Brush with about half of the melted butter.
To make the filling, in a medium-sized bowl, mix sugar, brown sugar, cinnamon, pecans, and apples.
Spread the pecan/apple mixture evenly over the dough, leaving about an inch empty on all sides. Roll dough over itself from back to front along the long side of the rectangle to form a log. Slice the log into 24 even pieces. Line cupcake tins with cupcake liners and place each piece of the log in a cupcake liner. If they don't fit, fold the ends together to make a "C" shape. The pieces should come to about the top of the liners.
Cover the cupcake tins and set in a warm place to rise for another 40 minutes. Preheat the oven to 350 F. Evenly distribute the remaining ¼ cup of melted butter over the tops of the cupcakes. Bake for 20 minutes or until the tops are golden.
For the glaze: mix the first 5 icing ingredients (powdered sugar, cinnamon, corn syrup, vanilla). Add heavy cream in small amounts at a time, stirring often, until icing reaches the consistency of honey. Drizzle glaze over cool cupcakes.