Morning Glory Muffins
I've mentioned it before, but there's just something about family recipes that have stood the test of time. One of my favorite wedding gifts I received when Mike and I got married was a recipe book filled with recipes handed down from Mike's side of the family.  I was looking through that binder the other day when I ran across this recipe for Morning Glory muffins. The recipe comes from Mike's grandma, who sadly, I never had the chance to meet. I've heard plenty about her though – how sweet and kind she was, and also what a good baker she was. Knowing about her baking skills, when I ran across her recipe I decided to make these muffins immediately.
These morning glory muffins are definitely a new favorite in our house. They're sweet and moist with a great texture from the varied ingredients. The cinnamon gives them a warm flavor, and thanks to the shredded carrots and apples, I can convince myself that they're healthy. (Let's just bypass the fact that I subbed out the raisins in favor of chocolate chips).  The muffins freeze beautifully and Mike and I have each been defrosting one a day to enjoy as part of our lunch. Mike likes these as much as I do, and I know I will be making these again and again.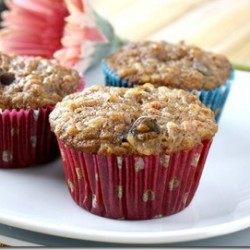 Morning Glory Muffins
Ingredients:
2 cups flour
1 1/4 cups sugar
2 tsp baking soda
1/2 tsp salt
2 tsp cinnamon
1 1/2 cups shredded carrot
1 1/2 cups peeled and shredded apple
3/4 cup coconut
1/2 cup raisins or chocolate chips
1/2 cup chopped pecans
3 beaten eggs
1 cup vegetable oil
1/2 tsp vanilla
Directions:
Pre-heat oven to 350. Grease or line 24 muffin tins with paper cups. In a medium sized bowl whisk together the flour, sugar, baking soda, salt and cinnamon. In a separate (larger) bowl, mix the remaining ingredients. Combine the two mixtures and stir just until moistened. Spoon batter into prepared cups. Bake for 18-20 minutes, or until a tooth pick inserted in a center muffin comes out with moist crumbs.