Cheesy Apple Quiche
I got this unique recipe from a local farmer who had a little farmer's market in the building where I work. Every Friday he and his wife would set up in the lobby, bringing with them lots of inexpensive local produce. Needless to say, I was a frequent customer. (Fryear's Little Red Market for those of you in the West Michigan area).  We talked about my blog, about the best way to cook a butternut squash, and about how in the world honeycrisp apples taste so good. On their last day coming in they handed me a recipe from MichiganApples.com for this cheesy apple quiche. Originally I was pretty skeptical about it, (apples in a quiche??), but my new friends assured me it was good. And so I made it.
And they were right. I must admit, initially I still found the apples to be a little out of place in a savory quiche, but once I got used to the taste I really liked it. I think my apples were slightly too sweet, so make sure to use a very tart variety. The rest of the filling was wonderful – cheesy and creamy and everything a quiche should be. Of course, I say that like I know what a quiche should be, but really this is the first time I've ever made one! Didn't it turn out pretty? Let that give you confidence. You too can make a quiche!
If you're not up for trying the apples in this recipe, you could easily substitue with some other combination of ingredients (broccoli, bacon, mushrooms, sausage, etc) and I'm sure it would be delicious. But if you're looking for a fun dish for Fall, try the apples. The taste is unique and each time I ate this (still tasted good re-heated!) I liked it more and more.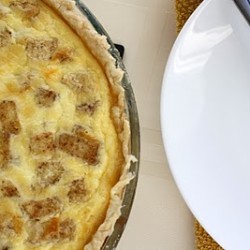 Cheesy Apple Quiche
Ingredients:
1 9" or 10" pie shell (see below)
1 3/4 cups shredded sharp Cheddar cheese
2 cups peeled, cubed, tart apples
1/4 cup minced shallots
2 Tbsp butter
1 1/2 tsp flour
1/2 tsp cinnamon
1/4 tsp nutmeg
4 eggs, beaten
2 cups half & half
1 tsp salt
Crust:
all purpose flour
1/2 tsp salt
1/3 cup plus 1 Tbsp shortening (or 1/3 cup lard)
2-3 Tbsp ice cold water
Directions:
Preaheat oven to 350. Prepare pie shell and press into pie plate; sprinkle 1/2 of cheese in pie shell and bake 10 minutes on lowest rack of oven; cool.
In medium skillet, saute apples and shallots in butter until soft (about 8-10 minutes). Stir in flour, cinnamon and nutmeg. Spread apple mixture evenly in pie shell; sprinkle with remaining cheese.
In a separate bowl whisk together eggs, cream, milk, and salt. Pour egg mixture over the apples and cheese in the pie crust. Place the pie plate on the lowest rack of the oven and bake until firm and knife comes out clean (about 60 minutes).
Remove from oven and let stand 10 minutes. Serve warm.
For the crust: Measure flour and salt into bowl. Cut in shortening thoroughly. Sprinkle in water, 1 Tbsp at a time, mixing until all flour is moistened and dough almost cleans side of bowl (1 to 2 tsps of water can be added if needed.)
Gather dough into ball; shape into flattened round on lightly floured surface. Roll the dough 2 inches larger than the inverted pie pan. Fold pastry into quarters; unfold and ease into pan. Trim overhanging edge of pastry 1 inch from rim of pan and flute the edges.