Welsh Cakes
These little sugar dusted cakes are a traditional Welsh snack that I discovered while visiting Wales last summer.  I brought the recipe home with me as a souvenier on a piece of Welsh slate and have been wanting to make them ever since. I first tried them in a delightful little cafe in the town of Tintern (the same place we had the delicious Welsh scones!) and they were the perfect afternoon snack with a cup of tea!
The ingredients are similar to scone ingredients, but the dough is possibly a little bit sweeter (although that could have been all the powdered sugar I sprinkled on top!) The dough is easy to work with and it only took about 15 mintues to throw these together. They cook quickly on the stove and are just perfect served hot off the griddle. The insides of these flat little cakes are light and fluffy with a texture similar to a biscuit or scone. The original recipe calls for a sprinkling of raw crunchy sugar on top, which would add a wonderful crunch!
These would be perfect served as an accompaniment to breakfast or brunch, or as a snack with tea or coffee.  I froze some of the rounds of dough (there are only two of us after all), and can't wait to pull them out of the freezer to cook for a quick treat!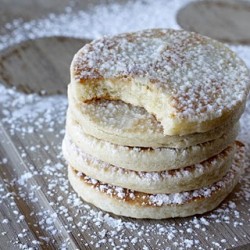 Welsh Cakes
Ingredients:
8 oz flour
1/2 tsp baking powder
1 pinch allspice
1 pinch salt
2 oz unsalted butter
2 oz lard (or shortening)
3.5 oz sugar
1 egg
milk
powdered sugar
Directions:
Mix the flour, baking powder, allspice and salt in a large bowl. Rub in the butter and lard. Add the sugar. Stir in the beaten egg with enough milk to make a stiff dough. (Start with a small amount of milk and add more as needed).
Roll the dough on a floured surface to about 1/4 inch thick. Using a biscuit cutter, cut into 2 inch discs. Cook on a lightly greased griddle or heavy frying pan for about 3 minutes per side, or until golden brown. Sprinkle with powdered sugar and serve warm.