Sugar Cookies for Fall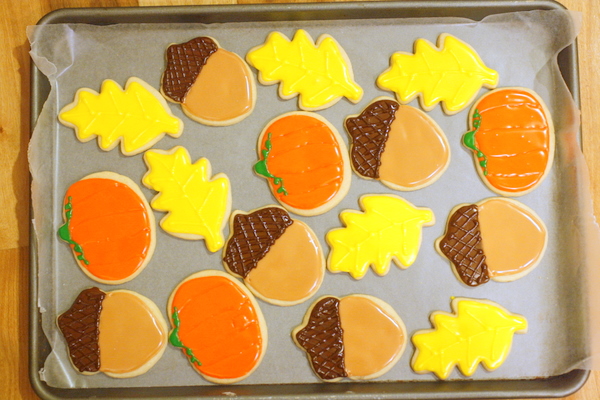 This past week I made sugar cookies for a friend's daughter to take to school for her birthday. The theme was "Fall", and I had a blast trying out some new cookie decorations. The cookies turned out pretty well so I thought I'd share them here if anyone needs a little decorating inspiration! I used this cookie cutter set from Wilton for the acorns and leaves, plus a random pumpkin cookie cutter that I've had for ages.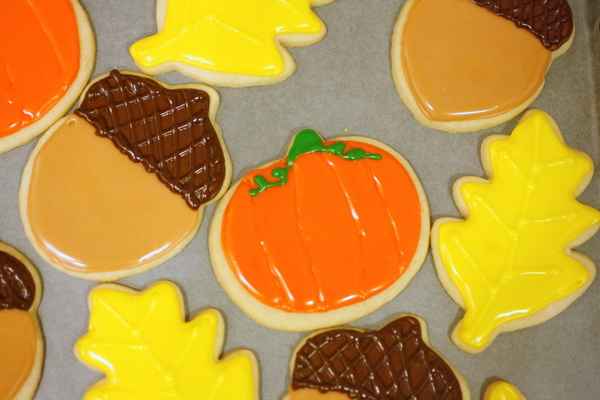 Sorry about the not so great pictures. It was late, the icing was still wet, and I just set the cookie sheet on the kitchen floor and snapped away. On a positive note, I did figure out how to change my auto white balance setting on my camera.

The decorating was pretty straight forward and simple. I've learned that my cookies turn out better when I stick to straight lines and don't try anything incredibly artistic. I thought these turned out pretty cute, and they were very fun to make. If you're just getting into cookie decorating, I recommend starting with simple, one color designs like these.  I used a glaze icing (link to the recipe below) to outline around the cookies and flood the inside. Then I just piped a few decorations onto the cookies once the flood icing had dried. It turns out that for me, simple is the way to go.

Recipe: Sugar Cookies with Glaze Icing (plus a few tips on baking sugar cookies!)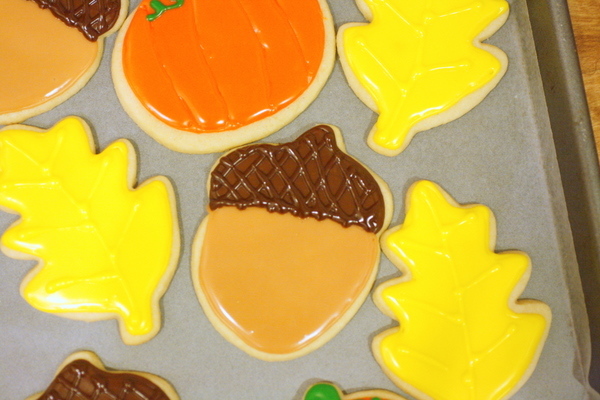 *Note: Affiliate links are used in this post