Spinach and Cheese Strata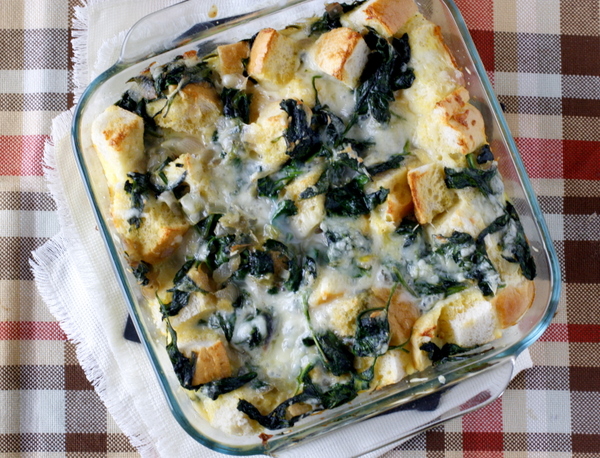 I wish I had a good story about this strata. In my ideal world it would have something to do with having company for brunch, planning a wonderful meal, and enjoying food and fellowship on a lazy Saturday morning . Alas, I have no such story. The only story I have is Mike and I sharing a hurried breakfast before he had to rush off to work (on a Saturday!) and me valiantly trying to figure out a way to make this strata look just as good in pictures as it tasted. (I think I failed).
What I can tell you, however, is that we both loved this strata. I've been wanting to try it for months now but finally planned it for a random Saturday morning a week before Christmas. I figured if we liked it, I could make it again for a special Christmas breakfast. This egg dish, overflowing with melty cheese, healthy spinach, and crusty french bread is absolutely wonderful. If you have time to assemble it the day before, this really would make a great breakfast on Christmas morning.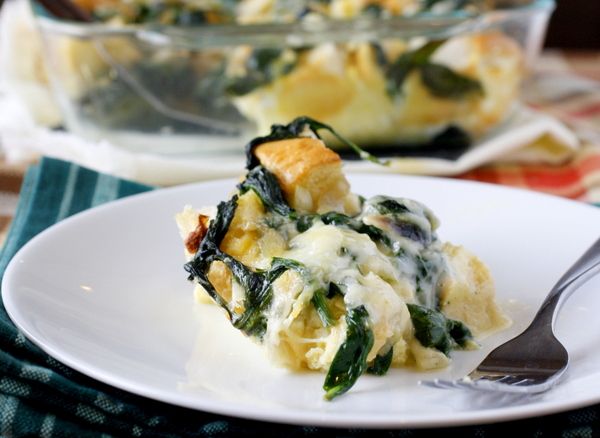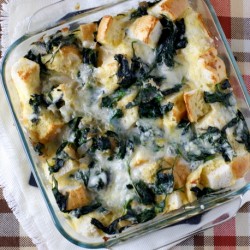 Spinach and Cheese Strata
Ingredients:
1 -2 (10 ounce) packages fresh spinach, roughly chopped (depending on how much spinach you want. I prefer 2!)
1 large onion, finely chopped
3 tablespoons unsalted butter
1 teaspoon salt
1/2 teaspoon black pepper
1/4 teaspoon freshly grated nutmeg
8 cups cubed French or Italian bread in 1-inch cubes (1/2 lb)
6 ounces coarsely grated Gruyère (2 cups) (I cheated and used Fontina - Gruyere was too expensive!)
2 ounces finely grated parmesan (1 cup)
2 3/4 cups milk
9 large eggs
Directions:
Melt the butter in a large saucepan over medium heat. Cook the onion with 1/2 tsp of salt, 1/4 teaspoon pepper and nutmeg until soft. Stir in spinach and cook until wilted. Remove from heat and set aside.
Butter a 3 quart baking dish. Spread one third of the bread cubes in the dish. Then add one-third of the spinach mixture and one-third of the cheeses. Repeat these layers twice, using all of the bread, spinach and cheese.
In a separate bowl, whisk together the eggs, milk, 1/2 teaspoon salt and 1/4 teaspoon pepper. Pour evenly over the bread mixture in the baking dish. Cover and refrigerate for eat least 8 hours.
When ready to bake, pre-heat the oven to 350 and let the strata stand at room temperature for 20-30 minutes. Bake, uncovered, until completely cooked, 45 to 55 minutes. The strata should be golden brown. Let stand 5-10 minutes before serving.
*Note: I cut the recipe in half and baked it in the 8x8 dish you see in the pictures above.