Chicken and Broccoli Sauce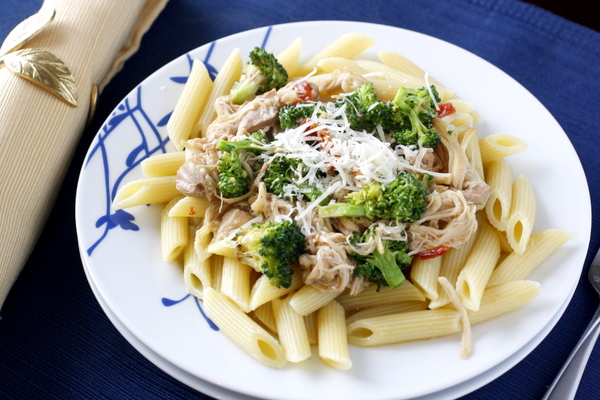 This time of year I seem to start relying on my crockpot more and more. By the time I get home from work and take Scamp for a walk in the little remaining daylight, the last thing I want to do is cook dinner. I just want to relax and hang out with Mike! That is when recipes like this one come in handy. It's fun and unique, but all the work is done in the crockpot. When it's time for dinner, all you have to do is cook a pot of pasta, stir some broccoli into the sauce, and you're done! And it tastes amazing! When I made it a few weeks ago, I couldn't stop eating the chicken out of the crockpot as I was waiting for the pasta to cook. It was so juicy and flavorful! We served this sauce on top of pasta the first night, then on top of the rice as leftovers the following day. Both ways tasted great. You could also reduce the liquid slightly and use this recipe to make shredded chicken for sandwiches. I'm pretty sure that will be on our menu in the near future!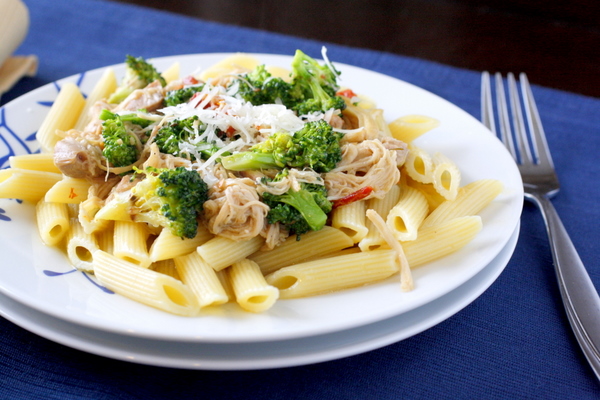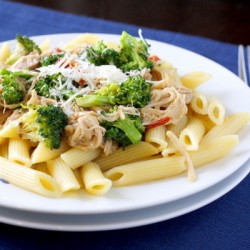 Chicken and Broccoli Sauce
Ingredients:
1 onion, minced
1/2 cup oil-packed sun-dried tomatoes, rinsed, patted dry, and sliced thin
6 garlic cloves, minced
2 Tbsp extra-virgin olive oil
1 tsp dried thyme
1/2 tsp red pepper flakes
2 cups low-sodium chicken broth
1/2 cup dry white wine
2 Tbsp minute tapioca
1 1/2 pounds boneless, skinless chicken thighs
salt and pepper
12 oz broccoli florets, cut into 1 inch pieces (4 1/2 cups)
1 cup grated Parmesan cheese (2 oz), plus extra for garnish
Directions:
Combine the onion, 1/4 cup tomatoes, garlic, 1 Tbsp oil, thyme and red pepper flakes in a small bowl and microwave for 5 minutes, stirring halfway through. Transfer to the slow cooker along with the broth, wine and tapioca. Stir together. Season the chicken with salt and pepper and place in the slow cooker. Cover and cook on low until the chicken is tender, 4-6 hours.
Transfer the chicken to a cutting board and shred into bite sized pieces. Microwave the broccoli with the remaining Tablespoon of oil, until tender, about 4 minutes. Stir the chicken and broccoli into the sauce and let sit until heated through, about 5 minutes. Stir in the Parmesan and remaining 1/4 cup tomatoes. Season with salt and pepper to taste.