Slow Cooker Mediterranean Pork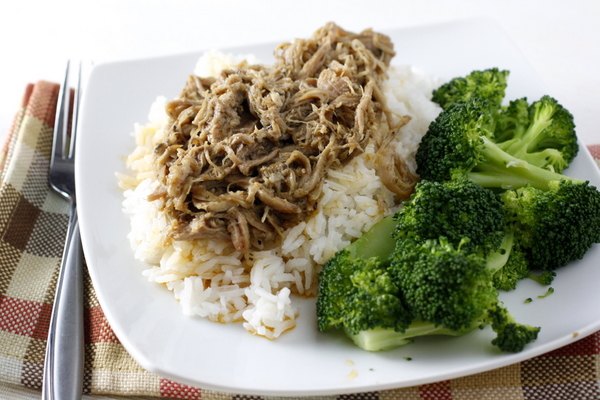 I hope you can look past the pictures and give this slow cooker mediterranean pork a chance. It turns out it's really hard to make pulled pork look appetizing on a plate! Despite that, trust me when I say that this meal was amazing.
So amazing that we've had it multiple times since I took these pictures. I love pulled pork no matter how it's prepared, but this recipe is one of my favorites.
The pork is tender and falling apart, and incredibly flavorful from the spices. We like to serve this meal with lots of rice to soak up all of the juice. Best of all, this meal is incredibly quick to put together.
I love recipes that require little prep work. I hope you try this recipe and that you like it as much as we do! 🙂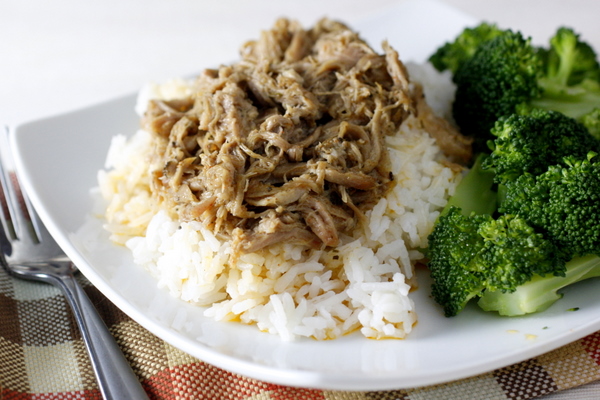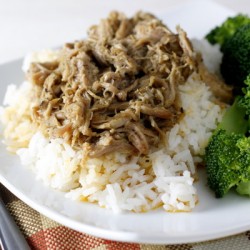 Slow Cooker Mediterranean Pork
Ingredients:
2 to 2 1/2 pork shoulder roast
2 tablespoons olive oil
3/4 cup chicken broth
1/2 tablespoons paprika
1/2 tablespoons garlic powder
2 1/4 teaspoon dried sage
1/4 teaspoon dried rosemary
1/4 teaspoon dried marjoram
1/4 teaspoon dried thyme
1 teaspoon oregano
1 teaspoon basil
Directions:
Combine the oil, broth and spices in a medium sized bowl. Cut small slits with a paring knife into the pork roast and place in a slow cooker. Pour the broth/spice mixture over the top of the pork. Cover and cook on low for 7-8 hours, or until the pork is tender. Remove the pork from the slow cooker and shred into pieces. Return the shredded pork to the slow cooker and toss with the juices/liquid. Serve over rice or couscous.