Cream Cheese Brownies
I used to think I didn't like cream cheese brownies. I like my brownies the traditional way – soft and chewy, and without any "extras" mixed it, unless it's extra chocolate of course. 🙂 However, I ran across this recipe for cream cheese brownies in my copy of Baking Illustrated and, since the amazing people at America's Test Kitchen seem to do everything perfectly, I figured I might as well try it.  I made them as part of a meal I was taking to a friend who just had a baby, and once I tasted one, I didn't want to give them away!
The brownies themselves are intensely chocolately, and the cream cheese swirls provide a great tangy contrast. I ate one while it was still warm and the texture seemed almost "cakey", which I normally don't really like. But somehow the cake-like texture seemed to go well with the swirls of soft cream cheese interspersed throughout. When I ate a brownie the following day, once they were cool, the texture had settled into something fudgy, chewy and amazing. It's very tempting to eat brownies as soon as they come out of the oven, but you really should wait and let these cool completely. You'll be glad you did.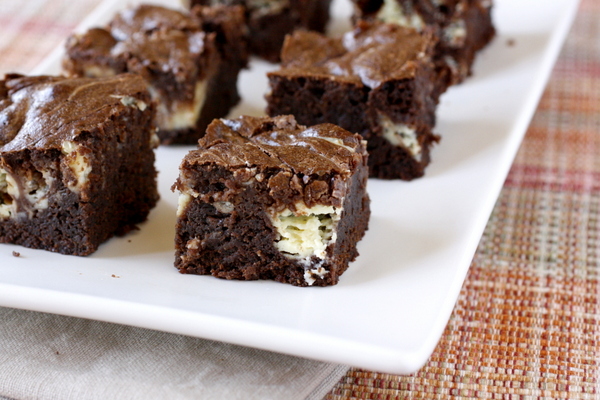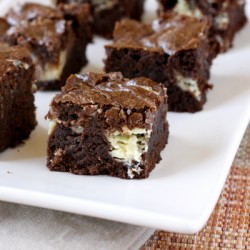 Cream Cheese Brownies
Ingredients:
Brownies:
2/3 cup all purpose flour
1/4 tsp salt
1/2 tsp baking powder
2 oz unsweetened chocolate, chopped
4 oz bittersweet or semisweet chocolate, chopped
8 Tbsp (1 stick) unsalted butter, cut into quarters
1 cup sugar
2 tsp vanilla extract
3 large eggs
Cream Cheese Filling:
8 oz cream cheese, at room temperature
1/4 cup sugar
1/2 tsp vanilla extract
1 egg yolk
Directions:
Adjust an oven rack to the lower middle position and pre-heat the oven to 325. Spray an 8-inch or 9-inch square pan with cooking spray and set aside.
In a small bowl, whisk together the flour, baking powder and salt, and set aside.
In a medium heatproof bowl, melt the chocolate and butter together. You can set the bowl over a pan of almost simmering water on the stove, stirring occasionally, or you can use the microwave. If using the microwave, heat at 50% power for a minute at a time, stirring at each interval, until melted.
Whisk the sugar and vanilla into the melted chocolate and let cool slightly. Whisk in the eggs, one at a time, making sure each is fully incorporated before adding the next. Whisk until the mixture is completely smooth, then add the dry ingredients and whisk until just incorporated. Set aside.
In a small bowl, beat together the cream cheese, sugar, vanilla and egg yolk until evenly blended.
Pour half the brownie batter into the prepared pan. Drop half the cream cheese mixture by spoonfuls over the batter. Pour the other half of the brownie batter on top, then drop the rest of the cream cheese mixture on top of that. Use the blade of a knife to gently swirl the brownie batter and cream cheese filling together.
Bake until the edges of the brownies have puffed slightly, and center feels not quite firm when touched lightly, and a toothpick inserted in the center comes out with moist crumbs - 50-60 minutes.
*amazon links are affiliates