Lemon Pudding Cakes
I'm starting to believe that you really can't go wrong with recipes from Real Simple magazine. I've tried at least one recipe from every magazine for the past few months and every single one of them has turned out perfectly. And true to their advertisements, the recipes are all fairly simple! These lemon pudding cakes, of course, are no exception. They are simple to prepare and since they can be prepared a few hours in advance, would be perfect for summer entertaining.  And of course they taste amazing! The lemon pudding layer on the bottom is thick and creamy, and the top "cake" layer is light and fluffy. When eaten warm, these are like those molten chocolate cakes, but with lemon instead of chocolate. You really can't go wrong with warm lemon pudding! These little desserts are nice and light for summer, but are still pefect for satisfying your sweet tooth!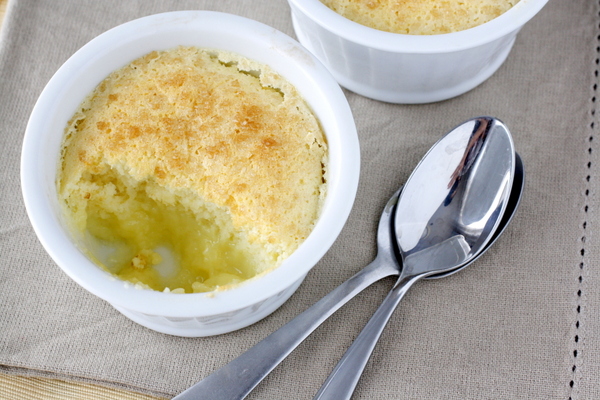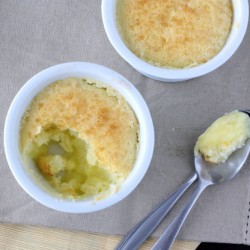 Lemon Pudding Cakes
Ingredients:
3/4 cup granulated sugar
1/3 cup all-purpose flour, spooned and leveled
3 large eggs, separated
2 Tbsp unsalted butter, at room temperature, cut into small pieces
1 cup whole milk
1 tsp finely grated lemon zest
1/3 cup fresh lemon juice
3 tsp turbinado or some other coarse sugar
Directions:
Heat oven to 350. Place 6 4-oz ramekins (or a 2 qt baking dish) inside a large roasting pan.
In a medium bowl, whisk together the granulated sugar and flour. Set aside. In a second medium bowl, whisk together the egg yolks and butter until combined. Whisk in the milk, lemon zest and juice. Add the lemon mixture to the sugar mixture and whisk until smooth.
Using an electric mixter, beat the egg whites and salt on medium-high until stiff peaks form, 2-3 minutes. In 3 additions, gently fold the egg whites into the lemon-sugar mixture.
Divide the pudding mixture amont the ramekins or pour into the baking dish. Sprinkle the turbinado sugar on top. To the roasting pan, add just enough hot water to reach halfway up the sides of the ramekins or baking dish. Bake until the tops are golden brown, 40-45 minutes if using ramekins, and 30-35 if using a baking dish.
*Make-Ahead: The batter can be prepared and poured into the ramekins up to 4 hours in advance. Sprinkle with the sugar right before baking.