Greek Yogurt with Warm Black and Blueberry Sauce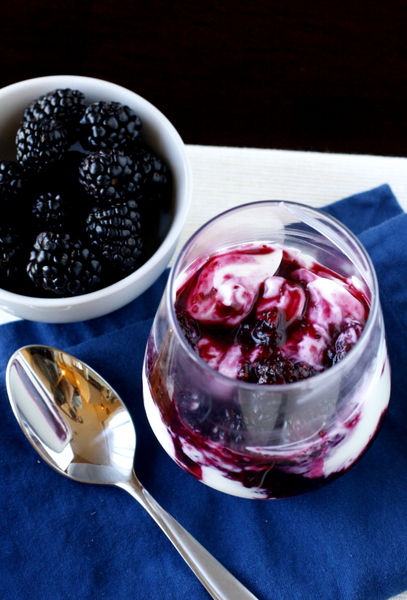 I promised you some blueberry recipes last week, and this week you're certainly going to get them! This first recipe is one of the ones I shared on Fox 17 last Friday, and it's definiteey a keeper. I love making homemade fruit sauces, but for some reason never thought to eat them with yogurt. I've been trying to transition from buying flavored yogurt at the store to buying plain yogurt, or even to making my own. Since I tend to think plain yogurt doesn't taste good at all, I'm always trying to sweeten it up a little with mix-ins. And that's where this black and blueberry sauce comes in. The sauce is sweet and tastes just like the fresh fruit that it's made out of. It's perfect for stirring into some yogurt, eating on pancakes or waffles, or even for serving on top of ice cream! The ice cream is how we've been eating it recently. 🙂 I've made this with a combination of blackberries and blueberries, and also with all blueberries, and it's great both ways. Give it a try while the summer berries are fresh and delicious and let me know what you think!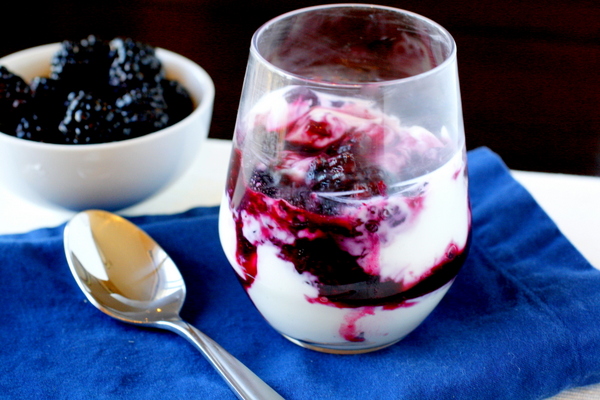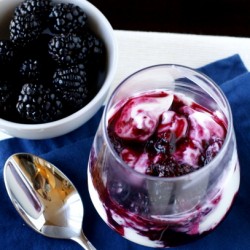 Greek Yogurt with Warm Black and Blueberry Sauce
Ingredients:
2/3 cup frozen blueberries
2/3 cup frozen blackberries
1/2 cup water
1/4 cup sugar
2 Tbsp fresh lemon juice
1 Tbsp butter
2 cups plain Greek yogurt
Directions:
Combine the first 5 ingredients in a small saucepan. Bring mixture to a boil. Reduce heat to medium-low; gently boil 10 minutes or until sauce thickens. Stir in butter.
Spoon 1/2 cup yogurt into each of 4 bowls. Top each serving with about 1/4 cup sauce. Serve immediately.
from Cooking Light, July 2011