Pink Lemonade Cupcakes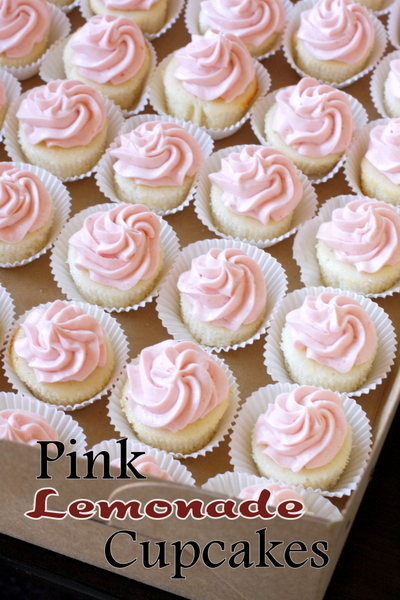 I had to take a break from blueberries to share these adorably delicious cupcakes with you! These pink lemonade cupcakes just scream "Summer" to me.  They are light and fresh and pink – always a good combination. 🙂 The actual flavor combination is a lemon cupcake with strawberry buttercream. I was planning to call them strawberry lemonade cupcakes, but every single person I fed them to said they tasted just like pink lemonade. So pink lemonade it is! The ones you see in the picture are minis, but the recipe is written for full-size cupcakes. If you want to make minis, just reduce the baking time to about 12 minutes. We love these cupcakes and can't get enough of them – I hope you feel the same way!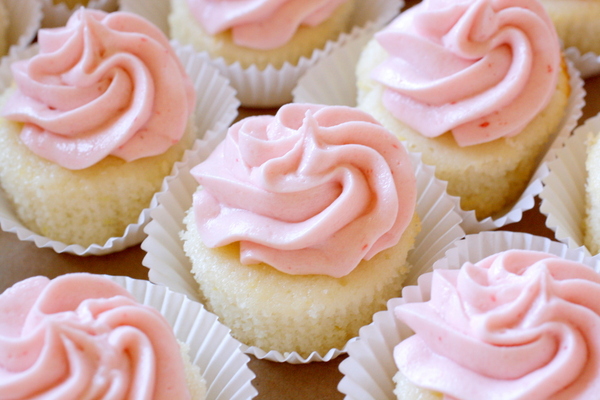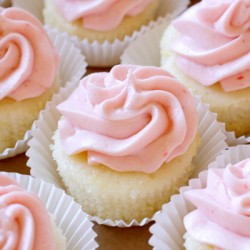 Pink Lemonade Cupcakes
Ingredients:
Cake:
2 1/4 cups cake flour
1 tablespoon baking powder
1/2 teaspoon salt
1 1/4 cups buttermilk
4 large egg whites
1 1/2 cups sugar
lemon zest from two lemons
1 stick (8 tablespoons) unsalted butter, at room temperature
1 teaspoon pure vanilla extract
1/2 teaspoon pure lemon extract
Strawberry Buttercream:
1/2 cup strawberries (blended into a puree and pushed through a fine mesh sieve to remove seeds)
2 sticks unsalted butter, at room temperature
1/2 cup shortening
pinch of salt
1 tablespoon clear vanilla extract
1/2 teaspoon of strawberry extract
1 1/2 pounds confectioner's sugar
2-4 tablespoons heavy whipping cream
Directions:
For the cake:
Preheat oven to 350 degrees. Prepare cupcake tins by using liners or spray with non-stick cooking spray.
In a medium bowl, sift together the flour, baking powder and salt. In a separate bowl, whisk together the milk and egg whites.
Put the sugar and lemon zest in the bowl of a stand mixer or another large bowl and rub them together with your fingers until the sugar is moist and fragrant. Add the butter and, working with the paddle or whisk attachment, or with a hand mixer, beat at medium speed for a full 3 minutes, until the butter and sugar are very light. Add the extracts and beat until combined. Add one third of the flour mixture, still beating on medium speed, then half of the milk-egg mixture. Repeat, ending by adding the final third of the flour mixture. Beat on medium for two minutes to ensure that the batter is thoroughly mixed and well aerated. Divde the batter evenly among the cupcake tins. Bake for 18-22 minutes, or until the cupcakes are are springy to the touch and a toothpick inserted into the center comes out clean. Cool for 5 minutes in the pan, then continue cooling on wire rack.
For the icing:
Cream the butter and shortening in the bowl of an electric or stand mixer. Add extracts and strawberry puree and combine well. Add the sugar in increments and mix thoroughly after each addition. Add the cream, one tablespoon at a time, mixing on medium-high speed after each addition, until you reach the desired consistency.
*If you don't have strawberry extract, simply add a little bit more strawberry puree until you reach your preferred level of strawberry flavor. If you add more puree, cut back on the cream.