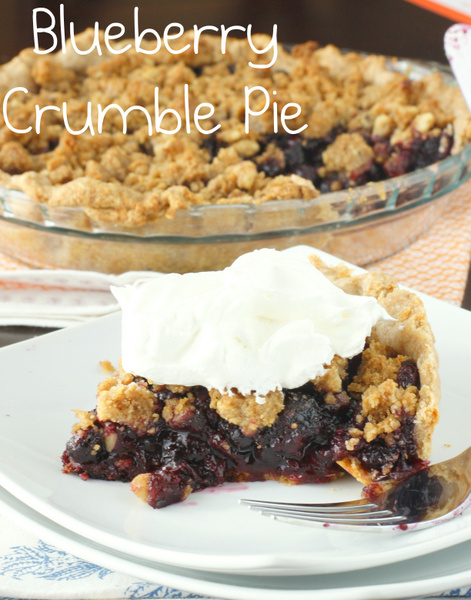 If you follow me on Facebook, you know that I did my best to ruin this blueberry crumble pie. I'm not very good at pie crusts to begin with, but I was so pleased with myself when my pie crust actually looked decent for once. Of course, after I took the crust out of the oven, I managed to set it down on a burner than was still set on low. And of course I didn't realize it until I started smelling burnt pie crust. The burner had made a nice large round burnt spot right in the middle of my pie crust! I was just thankful that the pie plate didn't break, because then the pie would have been ruined for sure. I just ignored the burnt spot, filled the crust with blueberries, and baked as directed. We ate around the burnt spot, and the rest of the pie tasted just fine. Better than fine, actually, it was wonderful!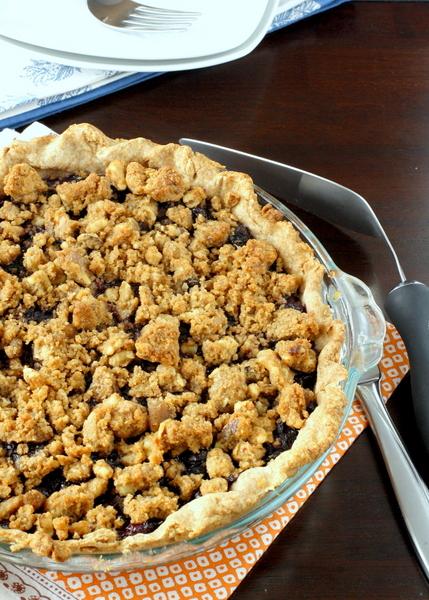 That just goes to show how good this pie is. I'm not normally a fan of blueberry pie and I really liked this. I think it's the crumble topping – that gets me every time. It's sweet and buttery and is the perfect compliment to the blueberry filling.  Of course, Mike, the biggest blueberry fan I know, absolutely loved this recipe.  I made the pie with blueberries fresh picked from a local farm that morning, so you can imagine how good it was! Plus, the pie is made with whole wheat flour, so it's practically healthy.

So yes, I definitely think you should try this pie. Just watch where you put it when it comes out of the oven!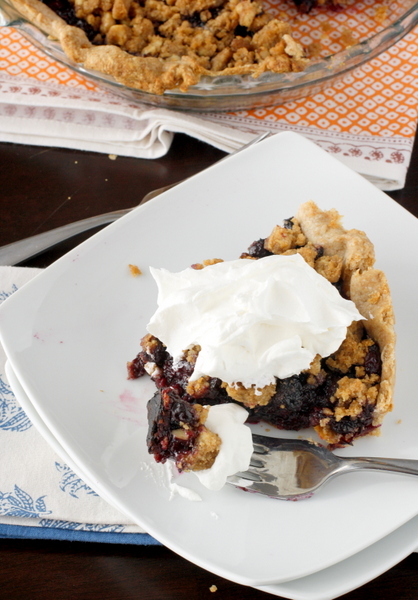 Whole Wheat Blueberry Crumble Pie

Ingredients:

Dough:
3/4 cup whole wheat flour
3/4 cup all-purpose flour
1 Tbsp granulated sugar
2 tsp white vinegar
1/2 tsp salt
10 Tbsp cold unsalted butter, cut into small pieces

Blueberry Filling:
6 cups blueberries
3/4 cup granulated sugar
2 wide strips lemon zest
1 Tbsp fresh lemon juice
3 Tbsp whole wheat flour
1/4 tsp freshly grated nutmeg
1/8 tsp salt

Crumble Topping:
3/4 cup coarsely chopped almonds, walnuts or hazelnuts
1/2 cup packed light brown sugar
1/2 cup whole wheat flour
4 Tbsp unsalted butter, melted
pinch of salt

Directions:

Make the dough: Pulse the whole-wheat flour, all-purpose flour, granulated sugar, vinegar, salt and about one-third of the butter in a food processor until the butter is incorporated. Add the remaining butter and pulse until it is in pea-size pieces. Add 2 tablespoons ice water and pulse until the dough just comes together. Pinch a small piece of dough: If it doesn't hold together, add up to 2 more tablespoons ice water, pulsing, 1 tablespoon at a time. Turn the dough out onto a large piece of plastic wrap and press into a ball. Pat into a 1/2-inch-thick disk and wrap tightly. Refrigerate until firm, at least 1 hour.

Roll the dough into a 12-inch round on a lightly floured surface or between 2 pieces of lightly floured parchment paper. (If the dough becomes soft, refrigerate until firm.) Center the dough in a 9-inch or 10-inch pie plate. Fold the overhang under itself and crimp the edges; refrigerate 30 minutes. Meanwhile, preheat the oven to 350 degrees F.

Lightly pierce the bottom and sides of the crust with a fork, then line with parchment paper or foil and fill with pie weights or dried beans. Bake 20 minutes, then remove the parchment and weights and continue baking until lightly golden, about 10 more minutes. Transfer to a rack and let cool completely.

Meanwhile, make the filling: Bring 3 cups blueberries, 1/2 cup granulated sugar and the lemon zest to a simmer in a saucepan over medium heat, crushing the berries slightly with a wooden spoon. Cook, stirring occasionally, until reduced by half, about 20 minutes. Discard the lemon zest. Transfer the blueberry mixture to a bowl; stir in the remaining 3 cups berries and 1/4 cup granulated sugar, the lemon juice, whole-wheat flour, nutmeg and salt. Let cool completely.

Make the topping: Combine the nuts, brown sugar, whole-wheat flour, butter and salt. Squeeze the mixture into clumps with your hands and scatter on a baking sheet. Freeze 30 minutes.

Increase the oven temperature to 375 degrees F. Pour the blueberry filling into the crust and top with the frozen crumb topping. Transfer to a baking sheet and bake until the filling is bubbly and the topping is golden brown, 45 to 55 minutes. (If the topping browns too quickly, cover it with foil. - *I covered my topping at about 25 minutes, so I think next time I would just add the topping halfway through the bake time). Transfer the pie to a rack and let cool overnight, or at least 4 hours, so the filling sets.

Food Network Magazine, July/Augst 2012