Chocolate Chai Trifle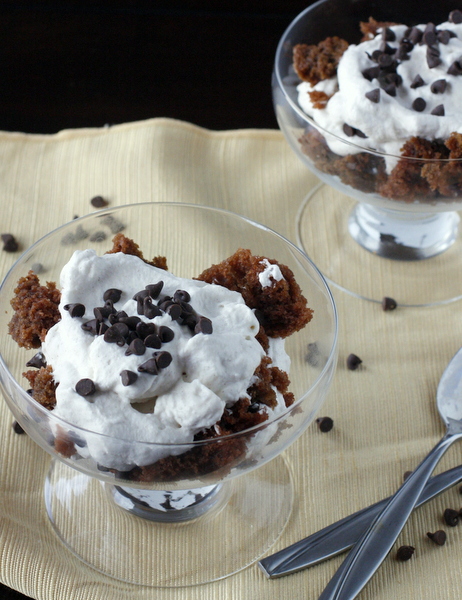 I've got one last Thanksgiving dessert idea for you today. Of course, you could eat this anytime, but it does make a nice presentation for the holiday. And even better, it's not really even a recipe. It's more like assembling various ingredients. I actually came up with this idea the first time I tried to make chocolate chai cupcakes. I attempted the recipe in a loaf pan and let's just say it didn't come out as planned. The loaf stuck to the pan and fell apart as I tried to get it out. Since it was already a mess, I decided to use it to make a trifle. I combined the cake crumbles with some cinnamon whipped cream and mini chocolate chips, and the end result tasted as good as if I'd planned it all from the start. It's very simple and easy, and it looks fairly impressive. I like to serve this in individual dishes, but it's equally as good in a large trifle dish. I hope you try it and like it as much as we did. 🙂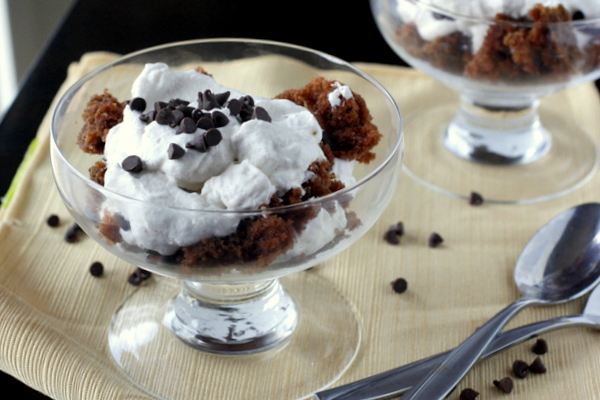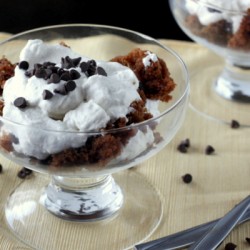 Ingredients:
2 ounces semisweet chocolate, chopped
1/2 cup water
1/2 cup butter, softened
1 cup packed brown sugar
2 eggs
1 teaspoon vanilla extract
1-1/2 cups all-purpose flour
3/4 tsp ground cardamom
1 tsp ground cinnamon
1/4 tsp ground ginger
1/8 tsp cloves
1/8 tsp ground nutmeg
1 teaspoon baking soda
1/2 teaspoon salt
1/2 cup sour cream
Cinnamon Whipped Cream
2 cups heavy whipping cream
1 tsp vanilla
1/4 cup granulated sugar
cinnamon, to taste
mini chocolate chips
Directions:
In a microwave, melt chocolate with the water; stir until smooth. Cool slightly. In a large bowl, cream butter and brown sugar until light and fluffy. Add eggs, one at a time, beating well after each addition. Beat in vanilla, then chocolate mixture.
Combine the flour, spices, baking soda and salt; add to creamed mixture alternately with sour cream.
Transfer to a greased 9x13 pan. Bake at 350° for 25-35 minutes or until a toothpick inserted in the center comes out clean. Cool completely then cut or crumble into small cubes.
For the cinnamon whipped cream. In the bowl of an electric mixer fitted with the whisk attachment, beat together the cream, vanilla, sugar, and cinnamon (to taste - I just sprinkled some in until it seemed right) on medium-high speed until stiff peaks form, 2 to 3 minutes.
Layer the cake cubes, whipped cream and mini chocolate chips in a deep glass dish or trifle bowl, alternating layers. Refrigerate until ready to serve. *You may not need to use all of the cake cubes.