Fresh Cranberry Lemon Cookies
These cranberry lemon cookies are made with fresh cranberries and topped with a sweet lemon glaze!
I wish I could fit the words "melt in your mouth" somewhere in the title of these cookies. These fresh cranberry lemon cookies are absolutely amazing.
Maybe I'm the last person to figure it out, but lemon and cranberry are a match made in heaven, especially when surrounded by a cookie sweet enough to cut through the tartness.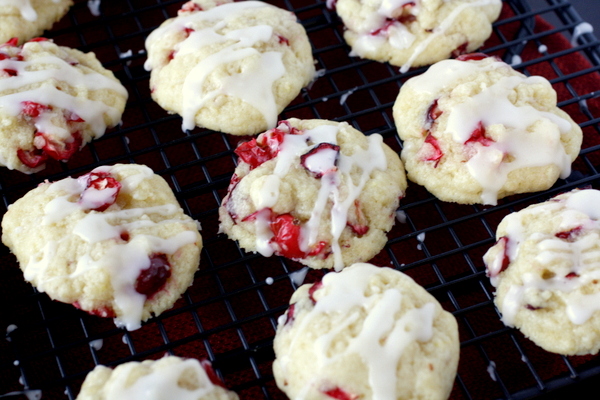 The cookies themselves are buttery and soft, and like I mentioned above, they really do melt in your mouth. I ate one before I added the lemon glaze on top, and also one after, and I have to tell you – don't skip the lemon glaze. Even Mike, who isn't the biggest cranberry fan, raved about these cookies.
Thanks to the fresh cranberries studded throughout, these cookies are perfect for your Christmas cookie platters! Every time I make a tray of cookies to take somewhere, these cranberry lemon cookies are the first to disappear. Please try them – I know you'll love them!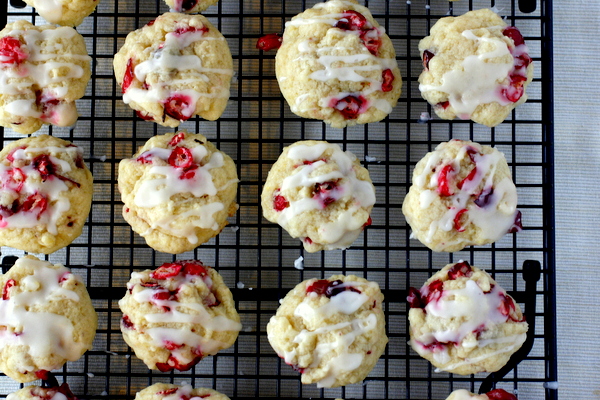 P.S. You can see all of my Christmas treat recipes from over the years at this Christmas Cookies tag. Enjoy! And, as always, let me know if you try any and how you liked them.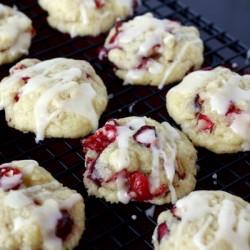 Fresh Cranberry Lemon Cookies
Ingredients:
2 1/4 cups flour
1/2 tsp baking powder
1/2 tsp salt
3/4 cup sugar
2 Tbsp lemon zest
1 cup unsalted butter, room temperature
1 egg
1 tsp vanilla extract
1 1/2 cups fresh cranberries, diced
Lemon Glaze:
1/2 cup powdered sugar
1 Tbsp lemon juice
Directions:
In a medium sized bowl, combine the flour, baking powder, and salt in a bowl and set aside.
In a large bowl, rub the lemon zest into the sugar until moist and fragrant. Add the butter to the lemon sugar and beat until light and fluffy – 3-5 minutes. Add the egg and vanilla, mixing until smooth. Add in the flour mixture, mixing until just incorporated. Fold in the cranberries by hand. Cover and chill for at least 30 minutes.
Preheat the oven to 350. Gently form the dough into balls and bake for 13-15 minutes on parchment lined cookie sheets. Let the cookies cool slightly before moving them to a rack to cool completely.
To make the glaze, mix the powdered sugar and lemon juice together, and drizzle over the fully-cooled cookies.