Thick and Chewy Gingerbread Cookies
I can't believe we've reached the end of the 12 Days of Christmas Treats. Trust me when I say I've been looking forward to this series all year, and that I've already started planning next year's treats! I saved one of my favorite cookies for the last day – these thick and chewy gingerbread cookies!
Please forgive the sheer abundance of pictures in this post, but I am just so proud of myself for these cute decorated cookies!  A few months ago I promised you a decorating update, and here it is. I'm improving. 🙂
The cookies themselves are thick and chewy (as thick as you roll them out to be) and heavily spiced with a delicious gingerbread flavor.
The recipe comes from one of my best friends from college, Becky. After we graduated from college, Becky and I would get together every year to bake cookies together. These gingerbread men were a staple of our yearly cookie baking.
The recipe actually comes from her mom, who I believe tore it out of a magazine years ago. Unfortunately, cookie baking is no longer a yearly tradition, due to the fact that we now live halfway across the country from each other. Thankfully Becky was kind enough to send me the recipe when I asked for it. It brings back such good memories when I make these, and it always makes me think of Becky and her mom. Don't you love cookies with a history?
The spicy gingerbread combined with the sweet icing was a great combination. The cookies are very soft and chewy and kept well in an airtight container for about a week. I'm already planning to make another batch of these before Christmas since I gave most of these ones away. Yum!! 🙂
Notes: This recipe makes about twenty 5-inch gingerbread people or thirty 3-inch cookies. Because flour is not added during rolling, dough scraps can be rolled and cut as many times as necessary Don't overbake the cookies or they will be dry. Store soft gingerbread in a wide, shallow airtight container or tin with a sheet of parchment or waxed paper between each cookie layer. These cookies are best eaten within one week.
P.S. You can see all of my Christmas treat recipes from over the years at this Christmas Cookies tag. Enjoy! And, as always, let me know if you try any and how you liked them.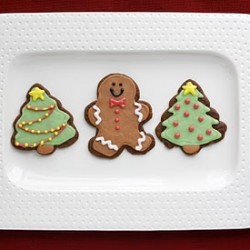 Thick and Chewy Gingerbread Cookies
Ingredients:
3 cups all-purpose flour
3/4 cup firmly packed dark brown sugar
1 Tbsp ground cinnamon
1 Tbsp ground ginger
1/2 teaspoon ground cloves
1/2 teaspoon salt
3/4 teaspoon baking soda
12 tablespoons (1 1/2 sticks) unsalted butter, cut into 12 pieces and softened slightly
3/4 cup unsulphured molasses
2 tablespoons milk
Directions:
If using a food processor:
In food processor workbowl fitted with steel blade, process flour, sugar, cinnamon, ginger, cloves, salt, and baking soda until combined, about 10 seconds. Scatter butter pieces over flour mixture and process until mixture is sandy and resembles very fine meal, about 15 seconds. With machine running, gradually add molasses and milk; process until dough is evenly moistened and forms a soft ball of dough, about 10 seconds.
Alternately, if using a stand mixer:
In bowl of standing mixer fitted with paddle attachment, stir together flour, sugar, cinnamon, ginger, cloves, salt, and baking soda at low speed until combined, about 30 seconds. Stop mixer and add butter pieces; mix at medium-low speed until mixture is sandy and resembles fine meal, about 1 1/2 minutes. Reduce speed to low and, with mixer running, gradually add molasses and milk; mix until dough is evenly moistened, about 20 seconds. Increase speed to medium and mix until thoroughly combined, about 10 seconds.
Scrape dough onto work surface and divide in half. Working with one portion of dough at a time, roll 1/4-inch to 1/2-inch thick between two large sheets of parchment paper. Leaving dough sandwiched between parchment layers, stack on cookie sheet and freeze until firm, 20-25 minutes. (You could also refrigerate the dough 2 hours or overnight.)
Adjust oven racks to upper- and lower-middle positions and heat oven to 350 degrees. Line two cookie sheets with parchment paper. Remove one dough sheet from freezer; place on work surface. Peel off top parchment sheet and gently lay it back in place. Flip dough over; peel off and discard second parchment layer. Cut dough into desired shapes and transfer the shapes to your parchment-lined cookie sheets. Space them at least an inch apart. Repeat with remaining dough until cookie sheets are full. Bake cookies until set in centers and dough barely retains imprint when touched very gently with fingertip, 8 to 11 minutes, rotating cookie sheets front to back and switching positions top to bottom halfway through baking time. Do not overbake or they won't be chewy. Cool cookies on sheets 2 minutes, then remove with wide metal spatula to wire rack; cool to room temperature.
Gather scraps; repeat rolling, cutting, and baking with remaining dough until all dough is used.
Click here to see the rest of the 12 Days of Christmas Treats