Cinnamon Sugar Biscotti
Day 6 of the 12 Days of Christmas Treats! It's no secret around here that I love biscotti. I've made quite a few different variations over the years, and they are some of my favorite Christmas cookies to make again and again. I love to sit down in the evenings and relax with some Christmas music, a cup of tea and a cookie. It's become tradition that a biscotti recipe is part of the 12 Days of Christmas Treats, and this year this cinnamon sugar version is the winner.
These cookies are delicious. They are perfectly crunchy, but thankfully won't cause you to break a tooth when you bite into them. You can't go wrong with cinnamon and sugar, and they kind of taste like a snickerdoodle in biscotti form. They are very freezer friendly, keep well, and make wonderful gifts.
If you're a coffee or tea drinker, you will love this recipe. And I can vouch for the fact that they pair perfectly with a steaming hot mug of chai tea. 🙂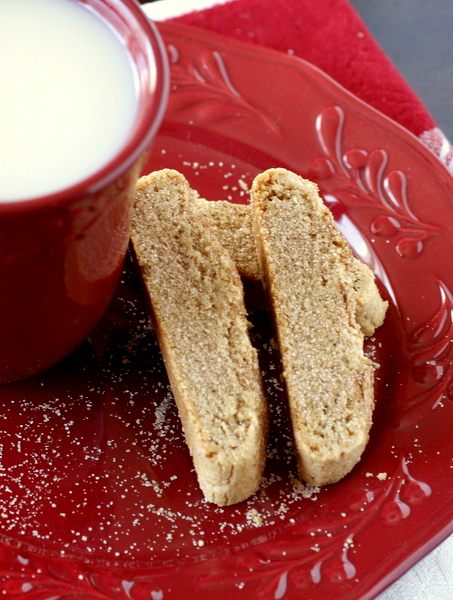 P.S. If you're looking for more biscotti recipes, try these double chocolate biscotti, candy cane biscotti, or almond biscotti!
Click here to see the rest of the 12 Days of Christmas Treats 2013. Or you can see all of my Christmas treat recipes from over the years at this Christmas Cookies tag. Enjoy! And, as always, let me know if you try any and how you liked them.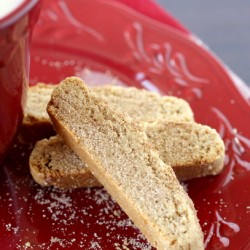 Cinnamon Sugar Biscotti
Ingredients:
For the dough:
2 cups all-purpose flour
1 1/2 tsp ground cinnamon
1 tsp baking powder
1/4 tsp salt
1 cup sugar
6 Tbsp unsalted butter, at room temperature
1 large egg plus 1 large egg yolk
1 tsp vanilla extract
For the topping:
1/4 cup sugar
1 tsp ground cinnamon
1 large egg, lightly beaten
Directions:
Preheat the oven to 325˚ F. Line a baking sheet with parchment paper and set aside.
In a medium bowl, whisk together the flour, cinnamon, baking powder, and salt. Set aside.
In the bowl of an electric mixer, cream together the butter and sugar on medium-high speed until light and fluffy, 3-4 minutes, scraping down the bowl as needed. Add in the egg and egg yolk, beating well after each addition. Mix in the vanilla until incorporated. With the mixer on low speed, mix in the dry ingredients just until incorporated and a dough is formed.
Divide the dough into two halves and shape each half into a log 9 inches long by 1 1/2 inches wide, spacing the logs at least 3-4 inches apart on the prepared baking sheet. In a small bowl, combine the sugar and cinnamon for the topping and stir to blend well. Lightly brush the tops of the logs with the beaten egg, and sprinkle generously with some of the cinnamon sugar mixture.
Bake for 40-45 minutes, rotating halfway through baking, until the tops are golden brown and slightly firm to the touch. Remove the pan from the oven but maintain the oven temperature. Once the logs are cool enough to handle, slice on the diagonal into 1 1/2-inch slices (about 10-12 per log). Place biscotti cut side-down on the baking sheet and sprinkle with more of the cinnamon sugar mixture. Bake an additional 10-15 minutes, or until golden.