Homemade Gourmet Hot Chocolate Mix
I've been looking for a good homemade hot chocolate mix for years. I wanted a classic, more "gourmet" mix that used real chocolate and was stirred into milk, not water, and this mix was exactly what I was looking for. It combines both semisweet and bittersweet chocolate, vanilla sugar, and good quality cocoa powder to create a hot chocolate mix that is full of rich chocolate flavor. Because the chocolate is the star of the show, it's important to use good quality. Thankfully the Ghirardelli baking bars were on sale at my local grocery store, so I was able to stock up without spending a ton of money. And honestly, with as good as this hot chocolate mix is, it's worth a little extra expense. This recipe makes a lot (72 servings!) which means it's perfect for gift giving. Just put some in a little bag, tie with a ribbon, attach the serving instructions, and you've got a cute gift that your friends and family are sure to love.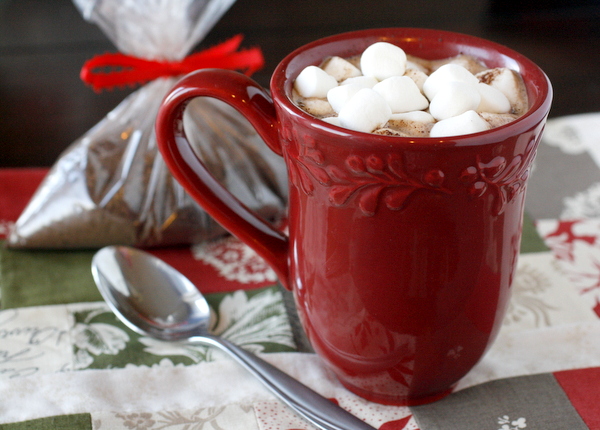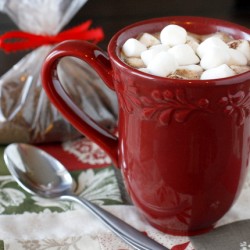 Homemade Gourmet Hot Chocolate Mix
Yield: ~76 2-Tbsp servings
Ingredients:
1 vanilla bean
4 cups granulated sugar
1½ lbs. good quality semi-sweet chocolate, coarsely chopped (I used Ghirardelli for both types of chocolate)
9 oz. good quality bittersweet chocolate, coarsely chopped
2 cups Dutch-process cocoa powder (I used Hershey's Special Dark)
Directions:
Split and scrape vanilla bean and place in a large bowl or jar with the sugar. Work seeds into the sugar with your fingers. Bury the pod under the sugar. Cover tightly and let stand overnight (or up to months) at room temperature.
In a food processor fitted with metal blade, process the chocolate until finely ground, using 4-second pulses.
Remove the vanilla bean pod from the sugar. Add ground chocolate and cocoa powder to sugar and whisk to blend, making sure to combine well. Store mix in an airtight container at room temperature for up to six months.
To serve, combine 2 tablespoons cocoa mix with 8 oz. of very warm milk and mix well.